UKIP denies 'privatise NHS' claims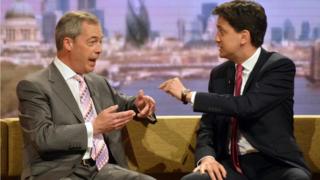 The UK Independence Party has denied Labour claims it wants to privatise the NHS, saying policies "develop and change over time".
In a video that has emerged from 2012, UKIP leader Nigel Farage proposed an "insurance-based system of healthcare".
Labour leader Ed Miliband attacked UKIP over the NHS and other policy areas in a speech in London, saying the party had "got away with it for too long".
UKIP health spokeswoman Louise Bours MEP said Labour were "desperate".
Mr Farage was recorded saying: "Frankly, I would feel more comfortable that my money would return value if I was able to do that through the marketplace of an insurance company than just us trustingly giving £100bn a year to central government and expecting them to organise the healthcare service from cradle to grave for us."
'Old' comments
Mr Miliband said UKIP had "a vision of the past" and believed the NHS "would be better off privatised".
Labour narrowly saw off UKIP in the recent Heywood and Middleton by-election, and Mr Farage has vowed to take on Labour's "northern heartlands" in the general election.
Ms Bours said it was a "downright lie" to say UKIP wanted to privatise the NHS.
She added: "What Labour don't seem to understand is that policies develop and change over time, and the comments he is relying on to lie to the public are two years old.
"I'm baffled as to why he doesn't understand that policies can change, since his own party have changed so many of their own."