Judges dismiss legal challenge to EU arrest warrant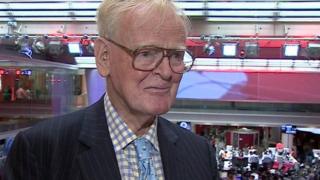 A legal challenge to try to prevent the UK continuing to comply with the European Arrest Warrant has failed.
Three High Court judges rejected UKIP treasurer Stuart Wheeler's bid to block moves to rejoin the scheme, which facilitates cross-border extradition.
Mr Wheeler argued that under existing UK law there should be a referendum before such a "transfer of power".
MPs voted to back the Warrant and 35 other EU justice powers on Monday after a controversial Commons debate.
There were angry scenes in the Commons after Speaker John Bercow said the Commons vote - which the government ended up winning easily - did not specifically relate to the European Arrest Warrant.
'Political realm'
This led Labour and some Conservative backbenchers to accuse ministers of breaking a promise to let Parliament have its say on the issue.
Ministers insisted that under the terms of the 2009 Lisbon Treaty, which gives the UK until 1 December to decide whether to allow the Warrant and other EU measures to lapse, the vote gave legal effect to their continued application in the UK.
Lawyers for Mr Wheeler argued that any move by Prime Minister David Cameron and Home Secretary Theresa May to notify the EU authorities of the UK's wish to continue to comply with the Warrant would amount to "an unlawful act".
They claimed the government would be exceeding its powers under the terms of the 2011 European Union Act if it notified Brussels without first holding a referendum.
The law guarantees a referendum if further powers requiring a change to EU Treaties are handed over from the UK to Brussels.
'Magna Carta'
Mr Wheeler also contended the move would "breach a legitimate expectation" that there would be a parliamentary vote specifically on the warrant before an opt-in.
But the judges said the case, which was backed by Conservative MP Jacob Rees-Mogg, was "unarguable" on all grounds as it would involve the courts "improperly straying from the legal into the political realm".
Mr Wheeler, who has been ordered to pay the government's costs, expressed his disappointment but said he would not appeal against the verdict.
"The 2011 Act was designed to - or ought to - make sure there would not be a transfer of any powers to the EU with regard to the European Arrest Warrant," he said.
"What has actually happened is a proposal for a substantial transfer of powers to the EU.
"In particular - contrary to what has happened over the last 799 years since Magna Carta - people can now be arrested in this country without any evidence of them having committed any crime and transported off to a foreign nation where they may have to wait a year in appalling conditions to face trial in a court which may not operate in any way like ours do... Plainly the government has failed to protect us."