Myleene Klass says mansion tax would hit little grannies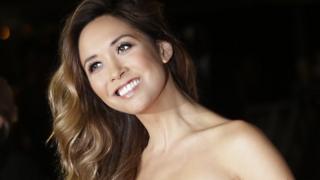 Ed Miliband has defended plans for a "mansion tax" on homes worth more than £2m after singer Myleene Klass said it would hit "little grannies".
The Labour leader appeared surprised when the ex-Hear'Say star rounded on him in a debate on ITV's The Agenda.
Mr Miliband said the plan was a principled way of raising extra cash for the NHS.
But Ms Klass claimed it would hit old people living in modest homes in London rather than the super-rich.
"For me, what is so disturbing is the name in its own right - mansion," she said.
"Immediately you conjure up in your head these Barbie-esque houses... but in London, which is where 80% of the people who are going to be paying this tax actually live - the South East of England - have you seen what that amount of money can get you? Often it's like a garage.
"When you do look at the people who are going to be suffering this tax, it's true a lot of them are grannies who have had these houses in their families for a long, long time.
"The people who are the super-super-rich who are buying their houses for £140m, this is not necessarily going to affect them because they've got their tax rebates and their amazing accountants.
"It's going to be the little grannies that have lived in those houses for years and years."
'Bring on the debate'
Mr Miliband replied that he understood "that people don't like paying more in tax", but he said the plan would raise £1.2bn: "The values of my government are going to be different to the values of this government.
"I say bring on this debate about how we're going to change our country."
Ms Klass replied: "Is that your only option? You may as well just tax me on this glass of water. You can't just point at things and tax them.
"You need to have a better strategy and say, 'Why is the NHS in this mess in the first place?'"
Sir Christopher Meyer, a former British ambassador to the US and a pensioner, also weighed into the row, telling Mr Miliband: "You're going to screw me royally."
Last month, shadow chancellor Ed Balls argued that Labour's proposed "mansion tax" would cost £250 a month for those people with homes worth between £2m and £3m.
Concern
He said owners of homes worth "tens of millions" and second-home owners would pay much higher rates of the "progressive" tax, and that the threshold would rise in line with average prices for high-value properties, not inflation.
Mr Balls said "asset-rich, cash poor" homeowners who do not earn enough to pay income tax at 40% would be able to defer payment of the mansion tax until "the property changes hands".
But several Labour MPs in London have expressed concerns about the policy.
It is one of Labour's main 2015 manifesto commitments, with the proceeds due to be used to fund the recruitment of 38,000 new GPs, nurses, midwives and other NHS professionals.
Some Labour candidates for Mayor of London in 2016 have sought reassurances from the party leadership amid concerns that the steep rise in houses prices in London in recent years will see family homes become liable for the tax.
In particular, they have called for safeguards for people on low or middle incomes who bought properties decades ago and have seen their market value rocket.