Rochester: Voters fed up with main parties, say Greens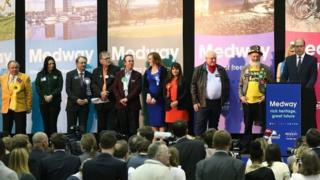 The Green Party of England and Wales has said the Rochester and Strood poll result is further proof of the "break-up" of the old political landscape.
Leader Natalie Bennett said her party's performance, in which it pushed the Lib Dems into fifth place, showed there was growing support for its ideas.
It is the third by-election this year the party has outpolled the Lib Dems.
She told the BBC that voters were "fed up with holding their noses" and voting for parties with similar agendas.
Despite coming fourth in the by-election, which was won by UKIP, Green candidate Clive Gregory still lost his deposit after getting less than 5% of the vote.
However, the party got twice as many votes than at the 2010 election and more than four times as many votes as the Lib Dems.
'Cigarette paper'
The Lib Dems suggested their poll performance, their worst ever in a by-election, was due largely to tactical voting, with many of their natural supporters voting Conservative in order to try to stop UKIP from winning.
But Ms Bennett suggested that people were getting increasingly disillusioned with such an approach and wanted to support parties "they believed in", citing her party's backing for a living wage and rail nationalisation and its opposition to fracking.
"People have reached the point where they are thoroughly fed up with holding their noses and voting for a party they dislike the second most to stop the people they really hate getting in," she told the BBC News Channel.
"People have said, 'We have seen the politics we get from that,' where you can barely get a cigarette paper between the two largest parties. The rhetoric might sound a bit different but the policies are the same.
"People are saying, 'We have seen tactical voting does not work,' and if I am being charitable, the two and a half party system is breaking down."
The Greens, she insisted, had growing momentum, with opinion polls suggesting a higher level of national support than at any time in the past 25 years.
The party saw its first MP elected in 2010 and increased its tally of MEPs to three in May's European parliamentary elections.