Theresa May 'battered and bruised' over EU arrest warrant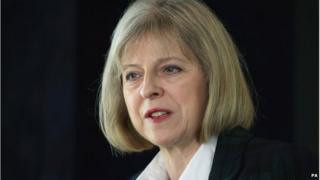 The Home Secretary Theresa May has said she was left "battered and bruised" after recently denying MPs a vote on the European Arrest Warrant.
Speaking to Radio 4's Desert Island Discs, Mrs May suggested she could have handled the situation differently.
She denied using "smoke and mirrors" to push the EAW through Parliament.
Mrs May also tackled rumours she is preparing for a leadership challenge, saying she hoped David Cameron would stay in his job "for a very long time".
Vogue subscription
Mrs May told Desert Island Discs: "I think Parliament was very clear that they wanted a vote on the EAW and maybe if we were starting again we should look at that."
On Wednesday, following a Labour motion, MPs were allowed to vote on the European Arrest Warrant which passed by 421 votes to 29.
The measure was part of a package of 35 EU justice powers which the government has opted into.
MPs were angry last week when they were only permitted to vote on 11 of these 35 powers, despite promises of a complete vote.
At the time Mrs May said the government had seen the vote as a chance to approve the whole package.
As well as talking politics, the home secretary offered a rare glimpse into her private life, telling the programme she gets by on five or six hours of sleep a night and that her husband is her "rock".
She also admitted that her first debate during a school history lesson "started with silence" when she "could not think of a single thing to say".
And, when asked the radio show's famous question of what luxury item she would want to take to a mythical desert island, the fashion-conscious MP opted for a lifetime subscription to Vogue magazine.
Listen to Theresa May's Desert Island Discs interview on BBC Radio 4 at 11:15 GMT on Sunday 23 November and 09:00 GMT on Friday 28 November, or on the BBC iPlayer.