Labour still party of working people, Ed Miliband vows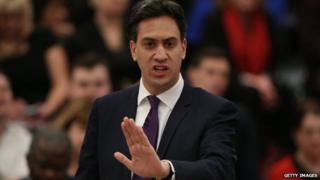 Ed Miliband is insisting Labour remains the party of working people while accepting one of his MPs was disrespectful to them.
Writing in the Daily Mirror, he criticises Emily Thornberry for a tweet before the Rochester by-election.
Ms Thornberry quit the shadow cabinet and apologised over her picture of a house with three England flags.
Shadow Chancellor Ed Balls will try to shift the political focus back to health service in an Ipswich speech.
Former shadow attorney general Ms Thornberry's picture of the house, with its flags and a white van parked outside, was branded "snobby" by the family living there.
She had posted the image on Thursday, while voting was taking place in the Rochester and Strood by-election. Alongside the picture, she wrote: "Image from Rochester".
---
Analysis
By Tom Barton, political correspondent
Some voters may enjoy demonstrating their lack of respect for the political class, but Ed Miliband knows it is toxic to show even an ounce of disrespect towards any part of the electorate.
For the Labour leader that is especially true of some working-class voters who, in parts of the country, appear to be switching allegiance away from Labour and towards UKIP.
That's why the picture which Emily Thornberry tweeted was potentially so damaging, and why she stood down so quickly from the shadow cabinet.
Although Labour has denied pursuing a so-called "35% strategy" - focusing on its core vote to win a narrow victory at May's election - its support is now frequently well below 35% in the opinion polls.
Ed Miliband knows that if he's to stand a chance of winning next year's election his party can't afford to alienate a single voter.
---
In the Daily Mirror, the Labour leader says he was "furious" about the tweet, which gave a "misleading impression".
"Respect is the basic rule of politics and there is nothing unusual or odd about having England flags in your window," he writes.
Election jitters?
Mr Miliband admits his party faces a "challenge" from UKIP, which won the poll ahead of the Tories and Labour.
But Mr Miliband says it was "a challenge I'm determined to meet".
"I am not going to let UKIP get away with the claim they will stand up for working people," he adds.
He attacks UKIP's policies on the NHS and accuses it of masquerading as the champions of working people, but wanting fewer rights for workers and bigger bonuses for bankers.
BBC political correspondent Iain Watson says with Labour now often polling less than 35% in the polls, jitters have set in, and Mr Miliband knows he cannot afford to alienate potential supporters ahead of next May's general election.
Up to now he has always denied the accusation he was concentrating on rallying his party's core vote, and winning over Lib Dem defectors rather than taking significant support away from the Conservatives, our correspondent added. In his speech, Mr Balls will try to move Labour on to safer territory by calling for an extra £1bn to be spent on the NHS, funded by recent fines on banks.
Five banks were ordered by the Financial Conduct Authority to pay the money earlier this month. Mr Balls insists that the health service needs it now.
It follows the plans set out by Ed Miliband to raise an extra £2.5bn on top of Conservative spending plans for an NHS fund to deliver more nurses, midwives, GPs and home care workers by the end of the next Parliament.
In a speech to the Labour Party's East of England regional conference Mr Balls is expected to say: "This latest banking scandal shows why we still need big reform and cultural change in our banks. But the fines levied on banks for foreign exchange manipulation should now be used for a wider good.
"And I believe an immediate boost to our National Health Service, which is going backwards under the Tories, must be a priority."