Ed Miliband: 'Rogue' employment agencies need regulation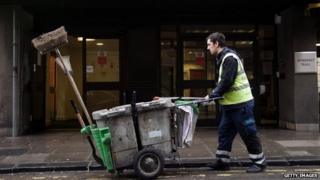 Labour has said it would introduce a system of licensing to clamp down on "rogue" recruitment agencies.
In a speech in London, Ed Miliband said some agencies break minimum wage laws and exploit workers by undercutting wages of permanent staff.
He called for a "national mission" to create 400,000 extra engineers by 2020.
Labour is looking to move on from the row over former shadow attorney general Emily Thornberry's tweet of a house with three England flags.
Ms Thornberry quit the shadow cabinet and apologised after being accused of snobbery with her tweet, posted on polling day during the Rochester and Strood by-election.
Labour has insisted that it is still the British political party best able to understand the needs of working people and to improve their lives.
Speaking on Monday, Mr Miliband accused some recruitment agencies of "operating in the shadows of our economy and on the margins of law", saying agency work had seen a "huge increase" in the past decade.
'Cowboy agencies'
He announced regulatory measures for such agencies if his party is elected, including:
A ban on employment agencies recruiting from abroad
Closing loopholes that allow agencies to undercut wages of permanent staff
Introduce a licensing system designed to get "rogue" agencies to "clean up their act"
Mr Miliband said: "To transform our economy, we need to be tough against those who would undermine dignity at work, and we need government and business to lead a new drive as a country for the skilled jobs we need."
He added: "I believe the basic bargain of our country is that hard work should be rewarded."
Labour will not tolerate "a world of work that is becoming more brutal because of the way some cowboy employment agencies have been allowed to operate", he said.
Labour said some agency workers were being hit with "unfair and illegal charges", including for travel and accommodation, which could mean their salary dropped below the minimum wage.
It said they could be paid less than permanent staff because of a legal loophole known as the "Swedish derogation" and could also be offered work that was unsuitable or in a remote location.
'Food on table'
Shadow business secretary Chuka Umunna told the BBC some temporary workers "don't quite know when the next shift is going to come, and don't know when they're going to be able to put food on the table for their families".
The number of people on a temporary contract is the highest since records began in 1997, Labour said.
It said "most other EU countries" operated a licensing system that entitled the authorities to revoke the licence to trade of an agency if it was found guilty of lawbreaking or misconduct.
Mr Miliband, who earlier on Monday visited a section of the new Crossrail line due to open in 2018, also promised a greater focus on STEM - science, technology, engineering and mathematics - subjects in schools.
He said: "If we are going to win the race to the top in the 21st Century, we have to re-establish our historic reputation as a world leader in technology and manufacturing."
A Labour government would pursue a "national mission" to create 400,000 extra engineers by 2020 - enough to meet an estimate of industry demand.
The Labour leader also said his party would "work with industry to put employers in charge of the money for training young people so that as many school-leavers go into a high quality apprenticeship as currently go to university".