Iran nuclear talks: UK foreign secretary says more time needed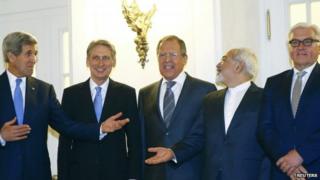 More time is needed to secure a deal with Iran over its nuclear programme, Foreign Secretary Philip Hammond has told MPs.
"No deal is better than a bad deal," Mr Hammond said in a statement after talks between six world powers and Iran ended without full agreement in Vienna.
The deadline for negotiations has been extended to the end of June next year.
Mr Hammond said the talks were "tough" and "significant differences" remained, but progress had been made.
The UK is one of six world powers negotiating with Iran to curb its nuclear programme in return for the lifting of sanctions. Tehran says it is not seeking nuclear weapons, but wants to develop atomic energy.
The talks in Vienna, aimed at finalising a preliminary deal reached last year in Geneva, ended on Monday without a comprehensive agreement.
British embassy
The foreign secretary described the talks as a "painstaking inching towards each other" and said the negotiating parties had "closed the gap on a number of important issues" but that more time was needed, particularly to iron out differences over Iran's capacity to enrich uranium.
"We always knew these negotiations would be difficult and complex and they have been," Mr Hammond said.
"At the heart of the negotiation is the need to reconcile Iran's aspirations for a peaceful civil nuclear programme with our insistence on ensuring that Iran cannot develop a nuclear weapons capability."
Mr Hammond said he was hopeful a comprehensive deal could be done by the new July 2015 deadline and that the sanctions regime would remain in place.
Shadow foreign secretary, Douglas Alexander said the lack of agreement was a "setback" but said that it was "better than a bad deal or a rupture" and that Labour would continue to support the government's approach over Iran.
Mr Alexander also asked about progress on re-opening the British embassy in Tehran.
Mr Hammond said the UK was negotiating over "technical issues" such as embassy equipment and visa services but had been unable to reach agreement with the Iranian authorities.
---
Talks timetable
24 Nov 2013: Six-month interim deal agreed; aim to reach final deal by 20 July 2014
19 Jul 2014: Interim deal extended until 24 Nov
24 Nov: Agree to meet again in December and extend deadline for "political agreement" to 1 March 2015 and final deal by end June 2015
---