Sport events give no economic boost - says report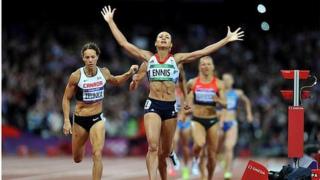 Major sporting and cultural events have no measurable economic benefit, a study of evidence in policymaking has found.
The What Works Network looked at how public interventions in areas such as health, crime, education and economic development took account of evidence.
Founder David Halpern said a lot of decisions were "driven by politics" without evidence that they would work.
Conservative minister Grant Shapps said that while data was useful, ministers must not be "over-influenced" by it.
The What Works Network is a series of independent foundations or centres, some of which receive government funding and the idea for which originated in Downing Street's Behavioural Insights Team - more commonly known as the "Nudge Unit".
The purpose of the network, which is modelled on the National Institute for Health and Care Excellence, is to improve how government and other public sector organisations "create, share and use" evidence, drawing on analysis of policymaking in the UK and abroad.
The main findings from its first report include:
Providing drug users with clean needles reduces risks of infection
Children and young people should not routinely be offered drugs for insomnia
Financial incentives for pupils do not significantly improve exam results
Repeating an academic year has a "negative impact" on attainment
Pupils in classes with a teaching assistant do not outperform those with only a teacher
Family nurse partnerships reduce welfare costs
Police need to target crime "hot spots" to effectively reduce offences
Everyday police behaviour is important to encouraging lawfulness
Major sports events are not "cost-effective" in terms of boosting growth
Among a number of assumptions it challenges, it said the measurable effects of major sporting and cultural events, including the 2012 Olympics, on local economic development "tend not to be large and are more often zero".
Although sport and culture have an "intrinsic" value to people separate from economic considerations, for instance by improving wellbeing, it found that big events are unlikely to be "cost-effective" in terms of stimulating growth in the wider economy.
"Any wage and income effects of projects are usually small and limited to the immediate locality or particular types of workers," the report said.
On crime, the report argued that the number of police officers on the beat was not, in itself, a panacea and that they needed to be patrolling in small areas where offences are concentrated and working with the local community to solve problems to be effective.
"Simply putting more bobbies on the beat has not been found to reduce crime unless they are carefully targeted or if police flood an area because of a short-term risk."
The report makes it clear that it is not the organisation's role to tell decision-makers what to do and they have to weigh up a range of other considerations, including "public sentiment and local context", before acting.
But Dr Halpern, who set up the now semi-privatised Nudge Unit and is advising What Works, told BBC Radio 4's World at One that it was inevitable decisions were sometimes made before evidence could be studied.
"The reality is that a lot of things are driven by politics and the imperative to act now," he said.
"It is not only ministers. All the way down to the frontline, professionals have to make decisions there and then. The problem is that the urgent tends to push out the important in terms of building the evidence base."
'Greater good'
Mr Shapps, minister without portfolio in the Cabinet Office, welcomed the report, telling World at One it was important that ministers and other public servants had access to the best available data to provide value for money in taxpayer-funded projects.
While it had cost "quite a lot" to stage the Olympics, he insisted it had improved "people's view of Britain" and boosted trade.
He rejected suggestions that ministers ignored evidence when it did not suit their purposes and insisted a balance had to be struck between being guided by data and taking into account other factors, such as instincts and values.
Landmark decisions, such as the building of the M25 around London, would not have been taken if ministers relied solely on cost-benefit analysis, he added.
"It is still right to have politicians make those decisions. You have to take a view which sometimes, although based on the data, is for the greater good.
"When they looked at building the M25 in the 1980s, no modelling within the Treasury made it stack up. Is anyone seriously telling me today that it was a mistake to build an orbital motorway around the capital?
"That is why you have to balance this great information, more efficient public spending, but with some savvy decisions as well."
The 2010 Ryder Cup in Newport boosted the Welsh economy by £82.4m, according to an economic impact study published in 2011, while Sheffield Hallam University has estimated that the London Marathon generates £140m of economic activity every year.