English devolution: Councils demand more powers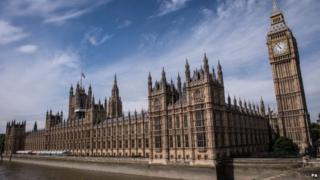 The leaders of more than 100 English councils have demanded more powers be devolved from Westminster.
They said English voters would not accept greater devolution to Scotland if a transfer did not also take place in England, adding "It's England's turn now", in a letter to the Observer.
The council leaders also said they opposed further cuts in their funding.
It comes days after a commission on further devolution said more powers should be transferred to Edinburgh.
The Smith Commission, set up in the wake of the Scotland's vote against independence, recommended the country's parliament should be able to set its own income tax rates, with the cash earned staying north of the border.
Also on Thursday, David Cameron said proposals for English MPs to vote on English laws are to be published before Christmas.
'Look north with envy'
The Observer letter has 121 signatories in total. It is signed by senior Local Government Association (LGA) figures including chairman David Sparks, along with 65 Labour council leaders, 40 Conservative leaders, 10 Liberal Democrat leaders and one independent.
The LGA represents more than 350 councils in England and the 22 Welsh councils through the Welsh LGA.
"Earlier this week, the Smith Commission set out a better deal for Scotland, granting more control over funding and recognising the importance of devolving power down beyond Holyrood. It's England's turn now," they wrote.
They call on George Osborne to use Wednesday's Autumn Statement - his update on tax and spending plans - to outline a "new settlement for England" which devolves power from Westminster and shares out tax and spending across the UK "on a fair basis".
"The people we represent, who look north of the border with envy at the greater control Scots are to get over their everyday lives will expect nothing less," the letter continues.
The leaders also warn Mr Osborne that, having seen their budgets slashed by 40% over the current parliamentary term, local government cannot afford another punishing round of "austerity" cuts.
"Funding for services provided by councils has borne the brunt of austerity, while demand continues to rise. When the chancellor delivers his statement... 'more of the same' cannot be an option," they say.
"Further reductions without radical reform will have a detrimental impact on people's quality of life and will lead to vital services being scaled back or lost."
'Unstoppable tide'
Local government minister Kris Hopkins warned that councils could not be exempt from the continued need to find savings.
"Local government accounts for a quarter of all public spending and must play its part in paying off the deficit left by the last administration," he said.
The fall-out from Scotland's historic No vote against independence in September has ignited a fierce debate on English devolution.
The three main parties pledged more devolution for Scotland during the campaign to encourage it to reject independence - which voters did - but it also prompted many calls from across the political divide for devolution south of the border.
Earlier this month, a poll commissioned by the BBC suggested some 80% of people in England supported having more powers devolved to local areas.
Shadow communities secretary Hilary Benn said devolution for England was now inevitable.
"Devolution isn't just for Scotland. There is an unstoppable tide now flowing right across England in favour of people having more power locally," he said.
"If we want to get the economy moving in all parts of the country, then we need to give local communities more power to shape their own future."