Hong Kong ban unjustified and counterproductive - minister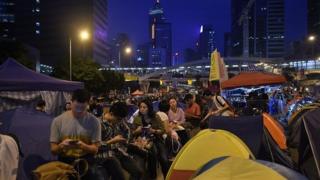 China's decision to ban a committee of MPs visiting Hong Kong was "wholly unjustified" and "counter-productive", the government has said.
Foreign Office Minister Hugo Swire said the move runs counter to progress in UK-China relations in recent years.
The Foreign Affairs Committee has been told it cannot make a planned trip to the ex-UK colony, which has seen months of pro-democracy protests.
A Chinese Foreign Ministry spokeswoman said it was up to Beijing to decide.
Hua Chunying told a daily news briefing: "China's opposition to any foreign government, organisation or individual interfering in Hong Kong's affairs in any form is resolute."
The British MPs did not want to visit Hong Kong for "a normal friendly visit but to carry out a so-called investigation on Chinese territory", she said.
MPs held an emergency debate on the matter after a request by committee chairman Sir Richard Ottaway was accepted by the Speaker.
Minister Hugo Swire said the UK had repeatedly stressed to the Chinese authorities the committee's independence of government.
He said ministers have been emphasising the context and importance of the MPs' inquiry at "senior levels" in Beijing, Hong Kong and London.
The UK has an "indispensable relationship" with China and many shared interests, he said, and added: "It is important that this relationship is conducted with mutual understanding and respect based on open and honest dialogue, and we will continue our endeavours to this end."
'Interference'
Opening the debate in the House of Commons, Sir Richard Ottaway told MPs the ban "is wrong and will have a profound impact".
He said: "This is a manifestly irresponsible and incorrect position to take."
Sir Richard told MPs he had received several warnings from Chinese officials opposed to his committee's plans to visit before the end of the year.
In July, the Chinese ambassador in London told him "the affairs of the Hong Kong administration were purely China's internal affairs".
"He was opposed to any interference and he concluded with advice that the committee should not make its planned visit to Hong Kong in December," he said.
In November, China's commissioner to Hong Kong said the visit would be viewed as support for the protesters and other illegal activities. The Chinese embassy informed him the committee "would not be allowed into Hong Kong for the purposes of our inquiry", he added.
'Day of shame'
Sir Richard said decisions on who should be allowed into the former colony were a matter for Hong Kong and not the Chinese government.
"This decision points to China's direction of travel," he said. "If there's a commitment to democracy in Hong Kong you first have to understand democracy."
Conservative MP Sir Malcolm Rifkind, who served as foreign secretary for the final two years of British sovereignty of Hong Kong, said the move demonstrated China's "weakness".
China should have used the visit as an "opportunity" to explain why its policy on the selection of candidates was more favourable, he reasoned.
Sir Malcolm also sounded a warning about the wider implications of the decision, which could threaten to undermine China's policy on Taiwan.
Emergency debates are rare in the House of Commons. They can last for three hours and take precedence over all other business.
Home Affairs Committee chairman Keith Vaz thanked the Speaker for granting the debate, which has allowed the House to discuss the "urgent and important" matter.
He said a "very clear response" was needed from the Foreign Office to try and persuade the Chinese Government to change its mind.
It was not enough for ministers to say that Parliament is separate from the government and so "'you must do this on your own'", he said.
David Cameron says China is "mistaken" to bar the committee from visiting the former British colony, describing the rebuff as "counter-productive".
No 10 says the move "amplifies concerns rather than diminishes them".
Britain handed Hong Kong back to China in 1997 under a deal which allowed it to keep its wide-ranging freedoms and autonomy.
But recent moves by Beijing to control nominations for the 2017 leadership vote have prompted days of protests in the city.
Labour MP Sir Gerald Kaufman, a former shadow foreign secretary, told the Commons that he was present in Hong Kong when sovereignty was handed over to China, and regarded it as "a day of shame for Britain".
"There was never any obligation to hand over Hong Kong to China... and I have absolutely no doubt that it was Foreign Office officials abiding by their usual custom of ingratiating themselves with a foreign government with which we could have valuable trading relations when democracy was the second consideration," he said.
Sir Gerald said the UK needed to be more realistic about China, which he said was a country that still uses the death penalty, imprisons without trial and has "no genuine freedom of speech".
He said MPs could not transform the country but stressed the importance of registering Parliament's "anger" at what had happened and the "insult" to the committee and the House of Commons.
MPs on the committee repeatedly stressed the point that their investigation would continue, which led Conservative MP Sir John Stanley to surmise what China was trying to achieve by its decision.
Sir John - who has been a member of the committee for 22 years - said it was "unprecedented" situation and "wholly unacceptable", fearing it would set a dangerous precedent for other committees and the House of Commons as a whole.
Conservative Richard Graham, who chairs the all-party parliamentary group on China, told MPs he was recently refused a visa to Shanghai to join a UK-China leadership delegation forum, which meant the "entire parliamentarian delegation pulled out".
Commenting on the ban on the Foreign Affairs Committee entering Hong Kong, Mr Graham said it was "sad" China had concluded that the committee's report, which has not yet been drafted, must be "negative in principle because of its existence rather than its content".
Police in Hong Kong clashed with demonstrators on Monday, briefly shutting down government offices - the latest showdown between the authorities and protesters seeking political reforms, including elections free from interference by Beijing.
Mr Swire said a transition to universal suffrage would safeguard Hong Kong's future prosperity and stability, and that the UK would encourage both governments to find a consensus.
Since July, the Westminster committee has been examining relations between the UK and its former colony, 30 years on from the signing of the Joint Declaration between the UK and China in 1984.
This landmark agreement approved the transfer of sovereignty to China and set out a "one country, two systems" principle of governance for Hong Kong under Chinese rule.
Martin Horwood, the Liberal Democrat MP for Cheltenham, called for a "deeper and more sophisticated" policy towards China, as he said the UK has had a tendency to prioritise trade and capital investment "almost to the exclusion of other considerations".
This would mean acknowledging Britain's "historic failings and injustices" as a colonial power and in the Opium Wars, and our "failure" to deliver democracy in Hong Kong, he said.
Sir Richard Ottaway said the issue represented a "real hiccup" in Sino-British relations, which he said had improved since a row in 2012 over a meeting between David Cameron and the Tibetan opposition leader, the Dalai Lama.
"China is a member of the G20. We work and do a lot together. This is wholly unnecessary and I would like to think they will think again over it."
'Volatile'
Downing Street said the committee had visited Hong Kong in the past and "their desire to travel is not new".
The Foreign Office said it did not believe there was anything to stop the MPs from visiting Hong Kong as individuals.
Foreign Secretary Philip Hammond raised concerns about the general situation in Hong Kong with his Chinese opposite number last week but Labour said the Foreign Office should be intervening to resolve the "regrettable" dispute.
"The situation on the ground in Hong Kong remains volatile and tense, and the authorities there must take steps to calm the situation, not further inflame it," shadow minister Kerry McCarthy added.
The Chinese authorities condemned the committee's inquiry when it was announced, saying it was a "highly inappropriate act which constitutes interference in China's internal affairs".