Gordon Brown: Giant of his age or failed prime minister?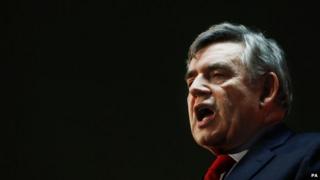 To his opponents, Gordon Brown was one of the worst prime ministers of the post-war era, a man whose ambition outpaced his ability.
To his supporters, he was a giant of his age, a politician who helped save the global economy and the United Kingdom. He could be brilliant and inspirational. He could be insecure and suspicious.
Above all, he was a complex figure whose character shaped his leadership, from his moral seriousness to his petty rivalries.
History will record him as a man who restored Labour's economic credibility, who kept Britain out of the euro, who helped lead the global response to the financial crisis in 2008.
The books will also note the national minimum wage, the tax credits and the long period of economic growth that allowed him to pump billions into public services.
But history will also note the endless feuding with Tony Blair that so damaged new Labour, his uncertainty in Downing Street, the temper tantrums and the economic legacy from which Ed Miliband is still struggling to escape.
In recent months, some of the old Gordon Brown reappeared in his passionate defence of the United Kingdom - speeches that only a son of the manse could make in their religious intensity.
He could be brooding, he could be brilliant, almost in the same breath: Westminster will probably not see his like again. As his spin doctors once said: not flash, just Gordon.