Boris Johnson criticises Nigel Farage's M4 delays excuse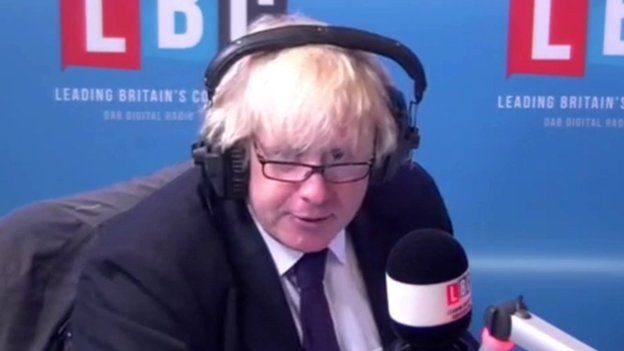 London Mayor Boris Johnson has criticised UKIP leader Nigel Farage for blaming immigration for missing a party event last Friday.
Mr Farage had been due to see about 100 supporters at a meet-the-leader event ahead in Port Talbot ahead of UKIP's first Welsh conference.
But he arrived too late and blamed his delay on high levels of immigration and the state of the M4.
Mr Johnson said his excuse was "feeble" and one of the "poorest" he had heard.
The mayor of London was holding his regular monthly phone-in on LBC radio, when he was asked for his opinion on the matter.
He said: "Of all the excuses I've heard for being late that is one of the poorest - I mean, for a politician to turn up late for an event and blame the immigrants."
The comment came during a series of questions about the mayor's views on xenophobia.
It was human nature to be "alarmed about the other, the alien", he told the phone-in, but emphasised that it did not mean people were "bad" and said xenophobia was as natural a part of the human condition as "sewage".
"We've got to manage it, we've got to dispose of it," Mr Johnson said. When challenged as to how, by talk show host Nick Ferrari, Mr Johnson quipped: "You could have xenophobia treatment plants."
Defending immigration, Mr Johnson said it had benefitted London "massively", as well as the country as a whole.
But he said people who came to live in the UK needed to speak English and respect British culture and society.
"People need to be British and they need to speak English. They need to be loyal this culture, to this country, to our institutions, to our society, to the Queen, to the rule of law, all the things that make us British; sense of humour and not freaking out about traffic jams on the motorway."
Mr Johnson blamed a "politically correct culture" over the past few decades for allowing cultural segregation, which he branded a "totally disastrous approach".
"I believe in assimilation," he said, questioning how people could be active citizens and engage in society without have a grasp of the language.
When pressed over translation services for non-English speakers, the London mayor suggested they could be cut "comfortably", but stressed that he did not want to deprive people access to justice.
"I think we overdo it and we have overdone it for a long," he said, but added that this was changing in the education system, where children are being taught in English only.