UKIP pledges listed building repairs VAT cut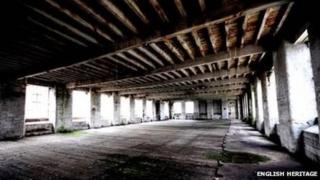 UKIP has announced plans to lower the VAT rate charged on restorations to listed buildings.
A 20% tax on approved alterations was introduced by Chancellor George Osborne in his 2012 Budget.
UKIP said it was "punitive and discriminatory" and promised to cut the tax rate to 5%.
The party's heritage spokesman, William Cash, said the move was essential for maintaining Britain's architectural heritage.
"Many buildings, from castles to cottages are crumbling away while the Treasury unfairly rewards developers of new buildings with zero VAT rates," he said.
Old v new
According to the Listed Properties Owners Club (LPOC), there are:
374,081 listed buildings in England,
47,700 in Scotland
20,592 in Wales.
Since 2012, the Treasury has charged VAT at 20% on approved alterations to listed buildings - work that was previously exempt from the tax.
The change in the tax regime applied to all listed buildings, including places of worship. However, listed places of worship not in private ownership are able to claim for government grants to help with the cost of repairs and alterations.
The Church of England owns 45% of the Grade-1 listed buildings in the country.
There is no such tax on new constructions.
A Treasury official said at the time the introduction of the charge would correct "significant anomalies" and "align the alterations of listed buildings with the existing VAT treatment of alterations to other buildings and repairs of all buildings".
But, on Monday, UKIP said the current level of tax charged on heritage repairs was the "most onerous" in Europe.
Mr Cash - UKIP prospective parliamentary candidate for North Warwickshire and son of Conservative MP Sir Bill Cash - said the 20% rate discriminated against not only the heritage tourism economy but also people who wanted to improve or repair their homes.
The party also said the tax had affected skilled British builders and other craftsmen, who had been "forced out of business" by larger contractors who employed cheaper labour.
Mr Cash said: "Our planning and tax policies should support - not discriminate against - the rich heritage of our built inheritance and the craftsmen and women who preserve it and those who share its custody with others and for future generations to also enjoy.
"The planning system should should be a fair balancing act between old and new".
TV presenter and chairman of the Heritage Alliance Loyd Grossman has called for a tax cut for restoration and repairs of older buildings, saying the current system "just doesn't make any sense".
The Listed Properties Owners Club (LPOC) has called on all political parties to permanently reduce to 5% the VAT charged on repairs and improvements to listed buildings in private ownership.