Ed Miliband: 16-year olds to vote in elections by 2016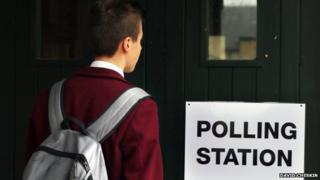 A future Labour government will ensure 16 and 17-year-olds are able to vote in elections across the UK from May 2016, Ed Miliband has said.
If it gains power in May, Labour will pass a law to ensure the franchise is extended for English local elections and the London mayoral poll in 2016.
The Labour leader also committed to 16 and 17-year olds getting a vote in 2016 Scottish Parliamentary elections.
It is essential for young people that their "voices are heard", he said.
The Conservatives are opposed to extending the franchise for UK-wide general elections and local elections in England.
Mr Miliband first committed to giving 16 and 17-year olds the vote in his speech to his party's conference in September.
He made the pledge in the aftermath of the Scottish Independence referendum, in which 16 and 17-year-olds took part and in which there was a turnout of 84%.
Scottish turnout
The Conservatives, Labour and the Lib Dems have since agreed to hand powers to set the franchise for future Scottish parliamentary elections to the Scottish Parliament - one of the SNP's key demands - as part of a wider devolution package.
Speaking at an event organised by the youth democracy organisation Bite the Ballot under the title 'LeadersLive', and co-hosted by YouTube, Twitter UK and ITV News, Mr Miliband urged the UK government to transfer this power to Holyrood as soon as possible to allow the franchise to be changed in time for the 2016 Scottish election.
Mr Miliband also gave more details about changes he wanted to see to the franchise for elections elsewhere in the UK, saying he would work with the devolved parliaments in Wales and Northern Ireland to extend the franchise there too.
He also confirmed that legislation would be passed in the first year of a Labour government to ensure 1.5 million 16 and 17-year olds would be entitled to vote in the English local council elections in May 2016 as well as the London mayoral election.
"The measures we will introduce in our first year of government represent the greatest extension of the franchise in my lifetime," Mr Miliband said.
"But it is not enough just to give young people the right to vote. We must do everything we can to ensure they have the chance to exercise it."
Schools, colleges and universities, he argued, would be asked to play a greater role in ensuring young people are registered to vote, following recent changes which make people individually responsible for ensuring they are on the electoral roll.
"With more and more young people heading off to study or moving home, it is vital that new rules on electoral registration do not deter them getting the chance to vote," Mr Miliband added.