David Cameron visits Auschwitz-Birkenau concentration camp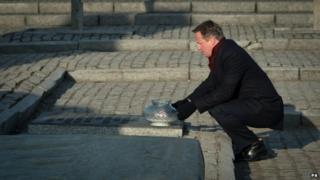 Prime Minister David Cameron lit a candle at a memorial for Holocaust victims as he visited the Auschwitz-Birkenau concentration camp.
In a message in the book of remembrance, he said the concentration camp was "this place where the darkest chapter of human history happened".
More than a million people died at the camp, in what was Nazi-occupied Poland, during World War Two.
Mr Cameron said the world must "never forget" what had taken place there.
He made the visit on the way back from Turkey, where he held talks with President Recep Tayyip Erdogan.
'Life-changing'
During a 90-minute tour with the director of the Auschwitz-Birkenau State Museum, Mr Cameron was shown train tracks that brought people to the camp and gas chambers where many of them were murdered.
Speaking later, the prime minister said his visit to the camp had filled him with "an overwhelming sense of grief for all those who were killed simply because of their faith, their beliefs or their ethnicity".
He said it was "a reminder of why the UK must fight against prejudice, persecution, anti-Semitism and tyranny wherever we find it and stand up for inclusiveness, tolerance and peace".
Karen Pollock, chief executive of the Holocaust Educational Trust, said Mr Cameron would benefit from the "life-changing" experience of visiting Auschwitz.
A commission to examine how the UK remembers the Holocaust was announced earlier this year.
It is aiming to establish a "permanent and fitting memorial" to the victims of the Nazis.
Mr Cameron said its proposals would be announced next month to coincide with the 70th anniversary of the liberation of Auschwitz.