Jean-Claude Juncker warns UK over immigration curbs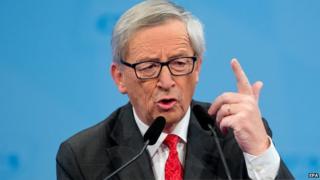 The new president of the European Commission has warned the UK not to "beat up" EU migrants as it tries to cut immigration.
Jean-Claude Juncker said people from Poland, Romania and Bulgaria were "earning their wages" and should not be treated as criminals.
Prime Minister David Cameron wants to change Britain's relationship with the EU ahead of an in/out referendum.
Last month he urged EU support for curbs on welfare payments to migrants.
The UK government has admitted the scale of EU migration means it is likely to miss its target of cutting net migration to the tens of thousands before the general election in 2015.
'Fundamental right'
Mr Cameron had previously vowed to "get what Britain needs" and change the free movement of people, but this met strong resistance from his European counterparts who see it as a fundamental principle of the EU.
During a debate on Austrian TV, Mr Juncker, who came to office at the start of November, said he wanted Britain to remain an active member of the EU.
But he went on to suggest that the knock-on effects of curbing free movement could have a negative impact on the City of London.
He said: "This fundamental right of free movement of workers cannot be questioned existentially because if you question the free movement of workers, Great Britain has to know that one day the free movement of capital will also have to be called into question.
"Then it will be the end for London's tax rulings, that will no longer be possible in London."
Mr Juncker said free movement of labour should not be "abused", adding: "But it is the national legislatures who should fight against this abuse and I am utterly against behaving as if all Poles, all Romanians, all Bulgarians in the European labour market are of a basic mentality that is criminal.
"These are people who are working and earning their wages.
"One should stop - especially Great Britain which always fought for the enlargement of the European Union - discriminating against countries just because, in the current context, it goes down well when one beats up others. Self-flagellation is sometimes appropriate."
Mr Cameron has said he is confident he can secure agreement for his reforms and would therefore campaign for the UK to stay in the EU in the referendum planned for 2017.
But he warned that if the UK's demands fell on "deaf ears" he would "rule nothing out".
His proposals include stopping EU migrants from claiming in-work benefits for four years, preventing migrants from claiming child benefit for dependants living outside the UK, and removing migrants from the country after six months if they have not found work.