The ex-MPs who died in 2014 - part three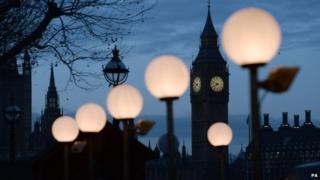 This year saw the passing of two political heavyweights: former Labour MP and firebrand politician Tony Benn and ex-Democratic Unionist Party leader Ian Paisley. Their deaths marked the end of an era, but they weren't the only former MPs to pass away in 2014.
Sir David Mitchell, 20 June 1928 - 30 August 2014
Sir David was the Conservative MP for Hampshire North West and served as a minister in Margaret Thatcher's government.
Born in Amersham, Buckinghamshire, in 1928, his political career started as a Conservative councillor in St Pancras North, where he stood unsuccessfully as a candidate before entering the Commons in 1964.
He was appointed the minister for small business, and was the first chairman of the Conservatives' backbench committee, the Daily Telegraph's obituary said.
During a five-year stint at the Department of Transport, he was involved with planning the Channel Tunnel and helped save the Settle to Carlisle railway, said the Guardian, which noted that the job allowed him to "indulge his knowledge of and pleasure in railways".
As well as being a government minister, Sir David was also a successful wine merchant, the Independent noted, working for his family's bar and wine merchant business, called El Vino.
He also served as a minister in Northern Ireland, and was an MP from 1964 to 1997.
His son is Conservative former chief whip and current MP for Sutton Coldfield, Andrew Mitchell.
---
Michael Neubert, 3 September 1933 - 3 January 2014
Sir Michael Neubert was the Conservative MP for Romford, winning the seat at the second attempt in 1974, and going on to serve in Margaret Thatcher's government.
An aide to three ministers, he was made chief whip after the 1983 general election.
He then moved to the Ministry of Defence, and in April 1990, as a junior defence minister, declared the tiny Scottish island of Gruinard safe, nearly half a century after anthrax testing during World War Two.
He had made the half-mile journey from the mainland and removed its red warning sign.
Sir Michael remained "unfailingly loyal" to Margaret Thatcher even after she sacked him in 1990, his obituary in the Daily Telegraph said.
Despite poor health in his later years that left him blind and with hearing problems, he managed to attend Lady Thatcher's funeral in 2013.
Describing this during an interview with the Romford Recorder after his death, Sir Michael's wife Lady Sally Neubert said: "He couldn't see, he was waiting for cataract operations, and could hardly hear but he was so pleased to be there."
---
Ian Paisley, 6 April 1926 - 12 September 2014
Former Democratic Unionist Party leader Ian Paisley moved from a political "never man" to Northern Ireland's first minister.
He ended up leading a power-sharing executive at Stormont - although he had supported the strike to bring one down 30 years earlier.
His biggest turnaround came when, as the leader of hardline unionism, he sat down with Gerry Adams - his former bitter enemy - as the DUP and Sinn Fein decided to work together in an executive.
His BBC obituary noted: "It seemed unimaginable to supporters who had followed him through years of protests that as Northern Ireland's first minister he would enjoy an easy relationship with his deputy first minister, Sinn Fein's Martin McGuinness, so much so that they became known as the 'Chuckle Brothers'.
"With his thunderous rhetoric and his bull-like voice, Ian Paisley was always the epitome of an American Deep South preacher."
Paisley was born in Armagh, his father a Baptist minister and his mother a preacher. He grew up in Ballymena, which was to become his political powerbase.
Before politics, he was a preacher, delivering his first sermon aged 16 in a mission hall in County Tyrone. He was just 25 years old when he founded the Free Presbyterian Church.
He stood as a Protestant unionist and was elected to the Stormont Parliament in 1970. Two months later he took the North Antrim seat at Westminster.
By 1971, he had founded the DUP and he began a long battle with the Ulster Unionist Party for the trust of the unionist electorate.
The signing of the Anglo-Irish Agreement in 1985 saw him join forces with the then Ulster Unionist leader James Molyneaux. Thousands attended a protest meeting under the banner "Ulster Says No" in Belfast city centre.
Together the two leaders adopted a policy of non co-operation, resigned their Westminster seats and forced by-elections which they later contested and won.
After the Good Friday Agreement, which Paisley opposed, he became First Minister in 2007 with Mr McGuinness alongside him as deputy.
He was replaced by his son, Ian Paisley Jr, as North Antrim MP in 2010.
---
Sir David Price, 20 November 1924 - 31 January 2014
Sir David Price was the long-serving MP for Eastleigh, representing the Hampshire constituency between 1955 and 1992.
Described as a "technocratic, humane and moderate Tory" in his Daily Telegraph obituary, he opposed capital punishment and apartheid.
During a Commons career that saw him serve under three separate prime ministers in the role of junior trade and aerospace minister, he opposed intervention during the Suez crisis, calling instead for more cooperation with the United States.
Writing in the Independent, former Labour MP Tam Dalyell said he would have tipped the "thrusting, capable, extremely confident" Price to be a future Conservative leader in 1962, after being appointed Parliamentary Secretary to the Board of Trade.
Educated at Eton and Cambridge, he was an intelligence officer during World War Two.
Paying tribute to Sir David after his death, Hampshire County Council leader Roy Perry told the Daily Echo: "Sir David was an immensely popular MP coming from the 'One Nation' group of Conservatives.
"He was liked in all parts of his constituency."
---
Charles Simeons, 22 September 1921 - 3 August 2014
Charles Simons served as the Conservative MP for Luton for four years, ousting his Labour opponent at the third attempt in 1970 with a 1,349 majority.
Educated at Cambridge, he served in the Middle East, India and Italy during World War Two. The Daily Telegraph described him as "robust on law and order", noting that he called for muggers to be put in the stocks.
Despite this, the paper said he was on the left of the Conservative Party, backing membership of the European Common Market.
After leaving the Commons when he lost the new seat of Luton East in 1974, he became an international expert on water pollution, becoming vice president of the National Industrial Material Recovery Association.
He was also a Rotary club "stalwart" and campaigner for Kelling hospital in Norfolk, said the Eastern Daily Press.
"He was a person who once he decided something was a good cause he would follow it right through and he was a real leader," his son Peter told the paper.
---
Sir Colin Turner, 4 January 1922 - 21 March 2014
The former head of an international media company served a single term as the MP for Woolwich.
He was honoured for his service as a bomber navigator in the RAF during World War Two, and the Daily Telegraph reported how he later recalling hearing a nurse say he wasn't "going to make it" as he was invalided home with almost fatal injuries after a crash.
Elected to Parliament in 1959, Sir Colin fought off an attempt by supporters of his predecessor, Sir William Steward, to unseat him, only to lose the seat at the next general election.
During his time in the Commons, he was secretary of the Conservative backbench air committee and called for the end of rent controls and subsidies for council housing, the Telegraph said.
He enjoyed a "busy retirement" in north Norfolk where he played a key role in the local Conservative Association and the Royal Air Forces Association, the Eastern Daily Press noted.
In its obituary, the paper described him a "businessman, politician, and charity stalwart". He was knighted in 1993.
---
Hamish Watt, 27 December 1925 - 12 April 2014
Hamish Watt was a Conservative turned Scottish Nationalist MP who represented Banffshire from 1974 to 1979, winning the seat as popularity for the SNP surged.
Educated at St Andrews University, he farmed dairy cattle and sheep for more than 50 years, the Daily Telegraph noted.
He unsuccessfully fought Caithness and Sutherland for the Conservatives in 1966, and then lost to the Tories for the SNP in Banff in 1970. He won the seat with a 2,785 majority at the following election.
During his time in the Commons, he served as the SNP's agriculture and fisheries spokesman and was involved in scrutinising Labour's devolution bill.
Following the devolution referendum of 1979, he lost his seat as the Conservatives returned to power, finishing second behind the Tories in Moray at the 1983 election.
His daughter, Maureen Watt, is an SNP MSP and Scotland's minister for public health.
---
Benjamin Whitaker, 15 September 1934 - 8 June 2014
The first Labour MP to win the then safe Conservative seat of Hampstead in 1966, Benjamin Whitaker campaigned to end the criminalisation of homosexuality and abortion and abolish the death penalty, the Independent said, noting his "passionate" support for Amnesty International.
Born in Hampstead and educated at Eton and Oxford, he also worked as a law lecturer and took part in dangerous Amnesty assignments overseas, the paper said.
After victory in the Tory stronghold, he served as a ministerial aide before being made parliamentary secretary in the Department of Overseas Development in 1969.
The Daily Telegraph said Whitaker "personified the liberal intelligentsia of the 1960s" and recalled him saying his constituency was "full of argumentative idealists like myself".
He lost his seat in 1970 by 474 votes and it was not until 1992 that Labour won the revised constituency of Hampstead and Highgate.
In 1985, Whitaker led an investigation that concluded the mass killing of Armenians by Ottoman Turks during World War One had amounted to genocide.
In the Guardian, human rights lawyer Geoffrey Robertson said he had "championed the progressive social reforms of the Harold Wilson government" and had made "distinguished contributions to civil liberties in Britain, and especially abroad" through his leadership of the Minority Rights Group, an international human rights organisation.
---
John Wilkinson, 23 September 1940 - 1 March 2014
John Wilkinson served as the MP for Ruislip and Northwood in West London for 26 years, from 1979 until 2005, having previously served Bradford West between 1970 and 1974.
Educated at Eton and Cambridge, he became an MP after serving as a pilot in the RAF.
Wilkinson's obituary in the Daily Telegraph notes that he backed the application to join the European Community in 1971, but later became a leading critic of the Maastricht treaty and having read every word of the agreement, voted against its ratification in 1993.
He also served on the defence select committee and chaired the Conservative defence committee.
He served as Parliamentary Private Secretary to Defence Secretary John Knott until the Falklands War, and spent most of his time in the Commons on the backbenches.
The eurosceptic did not contest the 2005 election, where Nick Hurd retained the seat for the Conservatives, and he moved to the Isle of Man.
Paying tribute on the Get West London website, Ray Graham, chairman of the Ruislip, Northwood and Pinner Conservative Association, said Wilkinson had been "a thorough gentleman of the old school".
---
Alan Williams, 14 October 1930 - 21 December 2014
Long-serving Labour MP Alan Williams represented Swansea West for 46 years from 1964.
At the time he was the MP with the longest continuous service in the House of Commons, earning him the title of Father of the House.
On taking on the role in 2005, he said: "It sounds twee but every day I walk into the House of Commons, I get a kick out of it and I hope all new MPs feel the same."
He enjoyed "asking awkward questions" to people in authority, BBC Wales' parliamentary correspondent David Cornock recalled.
After Tony Blair's landslide election victory in 1997, he was one of the few Labour MPs to speak openly against the government's devolution plans.
Four years later, he was elected chair of the liaison committee, a group of senior MPs whose job it is to question the prime minister directly.
Before then, he had made his name with tough questioning on the public accounts committee.
He had been a minister under both Harold Wilson and Jim Callaghan in the 1960s and 1970s - in industrial, consumer protection and economic roles.
But according to the Daily Telegraph, he was among a generation of MPs "denied the chance of higher office by Labour's defeat in 1979 and the internecine strife that kept the party in opposition for 18 years".
Paying tribute, Labour leader Ed Miliband said Williams had been a "dedicated servant of the people of Swansea".
"Throughout his career - culminating in becoming Father of the House of Commons - he commanded respect from across the political spectrum," Mr Miliband added.