Public libraries should emulate coffee shops, says report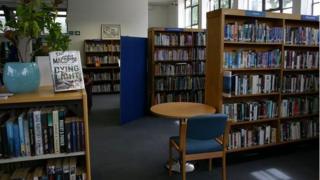 Public libraries in England are "at a crossroads" and must adapt if they are to survive, an independent report into the future of the service has said.
It suggests they need to emulate coffee shops, by offering free wifi, sofas, toilets and hot drinks.
It also calls for a library taskforce and a national digital library network to boost library standards in England.
Report author William Sieghart said libraries were a "vital lifeline" for people, but are in a state of crisis.
The government said it was committed to taking forward the report's recommendations.
"We are setting up a taskforce in partnership with local government to consider the recommendations in the report and lead on any future actions," it said.
'Civilised society'
The report, published on Thursday, was jointly commissioned by the departments for culture, and communities and local government in February.
The panel visited libraries across the country, considered more than 200 submissions of written evidence and heard oral evidence from bodies such as Arts Council England.
It found that the quality of library services was patchy across the country, and underlined the need to develop and extend best-practices all round.
Speaking to the BBC's Radio 4 Today programme, publisher and philanthropist Mr Sieghart warned of the impact of future spending cuts on the provision and quality of services.
"We're at a critical moment now are we're facing a few more years of austerity ahead of us, and many library services across the country have been whittled down as far as they can probably go," he said.
He underlined the importance of libraries in communities, saying 35% of the population use them regularly, rising to 50% in the poorest areas.
"It's a mark of a civilised society that we have a safe and trusted place to mine the knowledge of the world for free, with some helpful navigation from the library service," he said.
His report calls for a "re-invigoration" of the public library network, beginning with digital technology improvements, including the roll-out of wifi out to every library.
This should be delivered "in a comfortable, retail-standard environment with the usual amenities of coffee, sofas and toilets", the report states.
Failure to provided free internet and quality computer services paints libraries as old fashioned places with little relevance in today's society, it warns.
The three key recommendations are:
a national digital resource for libraries, delivered in partnership with local councils
a taskforce led by local government in partnership with other bodies to boost national standards in England's libraries
for that taskforce to help local councils to improve and revitalise local library services while encouraging increased community involvement.
The report also says libraries should be playing a major role in improving literacy standards, suggesting partnerships with schools and providing courses in literacy and adult education.
Other suggestions include more consistent branding and signage in libraries, better sharing of digital networks and more use of E-lending.
Mr Sieghart told the BBC it was not just a question of pumping new resources in to the public library network, but using existing resources "in a more sensible way".
The report author cited Suffolk council as a leading example, saying it had entered into a co-operative with library support groups resulting in a better, localised service.
'Extremely difficult'
Mark Taylor, from the Chartered Institute for Library and Information Professionals, welcomed the report and endorsed its proposals as a "step forward".
But he highlighted the "challenge" in delivering the recommendations, noting that 340 libraries had closed over the past five years, with 6,000 job losses.
Visiting figures and the number of books being borrowed had also declined, he added.
"If you don't have a network which is staffed, run and developed by professional staff with the right skills and expertise then I think it is going to be extremely difficult."
He added: "It's not quite last chance saloon for libraries if we just remain viewing them as book lending places only but this is our chance to really go beyond that and take libraries firmly in to this century."
The library taskforce will meet in February next year, and bring together national organisations "who believe they can help England's public library network, Mr Sieghart said.