David Cameron joins runners in Cotswolds festive challenge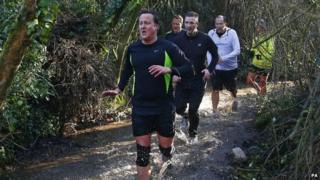 David Cameron has shaken off the post-Christmas cobwebs by joining competitors on a mile-long run in the Cotswold village of Chadlington.
In his third appearance in the annual Great Brook Run, Mr Cameron raced through an icy brook, crawled under a bridge and stumbled through the water.
The prime minister, who also took part in 2012 and 2009, received a medal and pint of ale at the finish.
He wore knee guards to prevent a repeat of the cuts he received two years ago.
Mr Cameron was met at the finish by his wife Samantha.
The Great Brook Run has been taking place since 2006, with the slogan 'Run. Get wet. Have a pint'.
It starts and ends at the Tite Inn in Chadlington, with the £5 fee to take part going to local good causes.
This year's race took place two days later than unusual. On their website, the race organisers said the event was "not without risk". In a possible reference to Mr Cameron's participation, it added "yes, he might be. we don't know".