New Year Honours: Lord Ashdown among politicians on list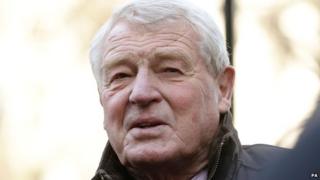 Former Liberal Democrat leader Lord Ashdown and Conservative peer Lord Young have been made Companions of Honour in the New Year Honours List.
The honour, which is limited to 65 people in addition to the Queen, is awarded in recognition of services of conspicuous national importance.
Other politicians in the List include the Labour MP for Stirling Anne McGuire, who has been made a Dame.
Her Labour colleague Hugh Bayley and Tory MP David Amess are knighted.
The Order of the Companions of Honour was instituted in 1917 by George V at the same time as the Order of the British Empire was founded.
Current members include Professor Stephen Hawking, naturalist Sir David Attenborough and painter David Hockney as well as former Conservative prime minister Sir John Major and former Labour chancellor Lord Healey.
Lord Ashdown, who was Lib Dem leader between 1988 and 1999 before joining the House of Lords, has been recognised for public and political service.
The former Royal Marine, who was High Representative for Bosnia and Herzegovina, has played a key role behind the scenes in securing and maintaining his party's support for its coalition with the Conservatives and bolstering party leader Nick Clegg.
Nato role
Lord Young, a successful businessman who was brought into politics by Margaret Thatcher, has been recognised for public service in a career of more than 50 years.
He served as employment and trade and industry secretary in the 1980s and as deputy chairman of the Conservatives before returning to the private sector.
Margaret Thatcher famously said of him that "other people bring me problems; David brings me solutions".
The Conservative peer became David Cameron's enterprise adviser after he took office in May 2010 but the peer resigned six months later after being criticised for claiming "most Britons had never had it so good" in the middle of a severe economic downturn and austerity in public spending.
Ms McGuire becomes a Dame Commander of the British Empire in recognition of parliamentary and political services during an 18-year career in Parliament.
After becoming an MP in 1997, she served in a number of junior ministerial roles under Tony Blair and Gordon Brown, including as minister for disabled people. The MP, who is standing down next year, is a member of the Public Accounts Committee.
Mr Bayley, Labour MP for York Central, is recognised for his service as a member of the UK delegation to the 250-member NATO Parliamentary Assembly and as a former President of the Assembly. He is also standing down at the next election.
Conservative MP for Southend West, David Amess, has been knighted for political and public service in a parliamentary career spanning more than 30 years.
He first entered Parliament in 1983 and, although he has never served in government, has played a key role in passing legislation on issues such as animal welfare and abortion.
Among other public figures to be knighted are Paul Silk, whose commission produced a blueprint for further devolution to the Welsh Assembly and financier Theodore Agnew, a strong advocate of the government's free schools and academies programme who is a non-executive board member at the Department for Education.
And Baroness Ashton, the former EU foreign policy chief, has been made a member of the Order of St Michael and St George.
Meanwhile, an inquiry is to be carried out into the apparent leaking of a string of names from the list before they were officially announced. Sir Bob Kerslake, the outgoing head of the Civil Service, said he was "concerned", describing the situation as "highly regrettable".