Lib Dems could form coalition with 'any party', Simon Hughes says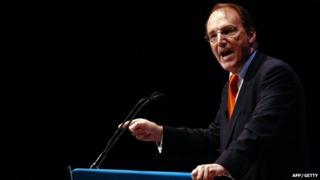 The Liberal Democrats could join up with "any other coalition partner" after the next general election, the party's justice minister has said.
Simon Hughes said his party would negotiate with the largest party first.
He said the Lib Dems' "business arrangement" with the Conservatives showed coalitions could work.
UKIP's Nigel Farage ruled out coalition with Labour or the SNP but suggested he could support a minority government in return for an EU referendum.
Opinion polls suggest there may be no outright winner in May's election, and the UK could get a second successive coalition.
The Lib Dems have 56 MPs but are trailing behind UKIP in opinion polls.
'Third party'
Mr Hughes told Sky News: "We will work as we did this time with any other coalition partner because the national interest has to come first.
"That's our duty, we've done it well, we've proved we can do it, we've proved coalition can work."
He added: "So we'd go into any negotiation, and it looks highly likely there will be no overall majority, we would go into any negotiation we would hope as the third party in British politics with whoever was the largest party in Parliament."
Meanwhile Mr Farage, who has not ruled out a coalition with the Conservatives, said: "I don't see UKIP being joined together with Labour and the SNP at all, I really don't. In fact, I would regard it even if we were in that position as unlikely that UKIP would want to be in coalition with anybody.
"But what you can do is give support to minority governments in return for what you want."
Mr Cameron refused to be drawn on possible coalitions in an interview on the BBC's Andrew Marr Show, saying he was fighting for a Conservative majority.