Poor households face higher council tax, LGA warns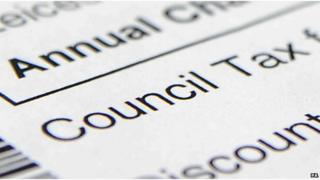 Many local authorities in England are set to demand higher council tax payments from low-income households, with the Local Government Association (LGA) blaming a £1bn funding shortfall.
The LGA says the gulf between the cost of protecting discounts and the money provided by central government to cover them "is getting bigger every year."
Some people have faced paying council tax for first time, the LGA added.
Ministers said reforms were vital to tackle the deficit.
But the LGA said a squeeze on budgets had left local authorities with an "unpalatable choice" of ending discounts for the poorest or making further cuts.
It said councils had already been asked to find £2.6bn in savings in 2015/16 due to a cut of 8.8% in overall government funding.
And £1bn would have to be found by 2016 to cover council tax discounts for those on low incomes, chairman David Sparks said.
'Little choice'
That left councils with "little choice" but to recover more cash from poor families, the LGA added.
Local authorities were given responsibility for council tax benefits in 2013.
Just 45 local authorities offer the same discounts as they did before then - 13 fewer than 2013/14.
The number now billing every household for at least some tax has risen by 15 to 244 in the past year.
Pensioners are protected from the changes.
'Impossible position'
Mr Sparks said: "Government reduced funding for council tax support by hundreds of millions of pounds when it handed the responsibility for administering it to councils.
"As a result, councils would need to find £1bn by 2016 to protect discounts for those on low incomes.
"At a time when local government is already tackling £20bn worth of cuts, this is a stretch too far."
He added: "Many councils have been put in an impossible position. This cut has taken millions of pounds out of funding for local services and increased the cost of living for some of society's poorest."
But Kris Hopkins, the local government minister, said the coalition was "returning fairness to the system and making work pay."
He said: "Spending on council tax benefit doubled during the last decade, costing taxpayers more than £4bn a year - equivalent to almost £180 a year per household.
"Welfare reform is vital to tackle the budget deficit this government inherited and our reforms to localise council tax support now give councils stronger incentives to support local firms, cut fraud, promote enterprise and get people into work."