Wellers' child privacy case: Peers urged to change law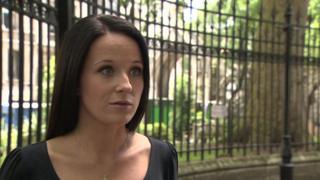 Parliament has been urged to make it illegal to publish photos of children without their parents' consent.
It follows a campaign by the wife of the rock star Paul Weller, who won a high court battle last year over unpixelated photos of their children published by a newspaper website.
Hannah Weller's cause is being supported by the Labour peer Angela Smith, who raised it in the Lords.
The government said a balance had to be struck between privacy and free speech.
The Weller family were photographed while shopping in Santa Monica, California, in October 2012.
"When we realised we were being followed, Paul confronted the photographer and asked him to to stop but he refused," Hannah Weller told the BBC.
A few days later, seven unpixelated photos of Paul Weller's stepdaughter Dylan, who was 16, and the couple's 10-month-old twins John-Paul and Bowie, appeared on MailOnline.
Mrs Weller said: "To see the photos was really scary as a mother and to realise they were there for all the world to see and for anyone to use however they liked. I just couldn't believe it could happen and there was no way in law to prevent it."
The couple won a High Court battle against Associated Newspapers for misuse of private information, winning £10,000 in damages and an injunction against further publication of images of the children concerned.
Associated Newspapers - which publishes the Daily Mail, the Mail on Sunday and Metro - is appealing against the decision. The group said the Wellers had previously chosen to open up their private family life to public gaze to a significant degree and that the pictures were innocuous.
Hannah Weller set up a campaign group to make it illegal to publish unpixelated pictures of children without parental consent.
She insists there would be exceptions granted for pictures published in the public interest, those taken of a crowd or where there is implied consent, such as a red carpet event.
"What happened to us was awful. It was so distressing and it lasted such a long time. We had to go to court to challenge it but I want to stop it happening in the first place," she said.
"This isn't just about celebrities or people in the public eye. Anyone can find themselves in the media spotlight, such as if they're the victim of a crime."
The Labour peer and Shadow Home Office Minister, Angela Smith, is supporting the campaign, arguing that civil law could be changed to prevent specific abuses of privacy without threatening free speech.
"It's entirely reasonable and responsible that when identifying a child in a published photograph there should be consent or good reason and if not, the image should be pixelated or blurred. If [self-regulation] was working, why did Hannah Weller have to go to court and why did the judge say that the law needs clarification?" she asked in the House of Lords.
Home Office Minister Lord Bates replied that the government had introduced a new system of self-regulation of the press and there were remedies available under civil law.
He was repeatedly pressed by the Labour peer, Lord Harris of Haringey, over images where children were clearly identifiable, as distinct from unidentifiable pictures such as a crowd scene.
"Why is there any case at all in terms of journalistic integrity or freedom and investigative journalism that requires an identifiable child's face to be published without consent?" Lord Harris asked.
Lord Bates said there was a "fine balance" to be struck. "Every parent understands about the lengths to which we're all prepared to go to protect our children's privacy and safety. The question is to weigh the balance between that right to privacy and also the right and privilege of free speech and freedom of the press which is an underscored part of our democracy.
"We can deal with this in a commonsense way without the need to criminalise everyone who produces an image of a child."
The former children's TV presenter Baroness Floella Benjamin, a Liberal Democrat peer, and the Labour peer Baroness Lawrence, mother of the murdered teenager Stephen Lawrence, also spoke in favour of greater protection of child privacy.
Mrs Weller, who has had meetings with politicians from across the parties, including the Deputy Prime Minister Nick Clegg, is keen to separate her campaign from the wider question of press regulation.
"This is about common decency and child protection, not about freedom of the press," she said.