Ex-UKIP candidate Kerry Smith 'to run as independent'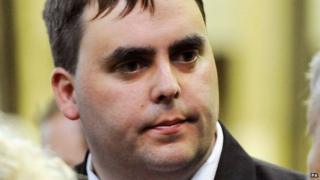 A former UKIP general election candidate who quit over offensive remarks made in a phone call will contest the seat as an independent.
Kerry Smith is to announce he will run in the Essex seat of South Basildon and East Thurrock, the BBC has learned.
Mr Smith was forced to resign after apologising for remarks he made in a phone call, a recording of which was obtained by the Mail on Sunday.
UKIP said he was "his own man" and "entitled to stand".
He had been selected to fight the South Basildon and East Thurrock seat after ex-Tory MP Neil Hamilton pulled out.
But his behaviour was described by UKIP leader Nigel Farage as "loutish and wholly inappropriate" after the remarks were revealed last month.
---
Analysis by Simon Dedman, BBC Essex political reporter
With £2,500 in his pocket and half a dozen supporters prepared to pound the pavements of South Basildon and East Thurrock, Kerry Smith has declared his independence.
The former UKIP activist says he is "not a racist", "doesn't discriminate" against people but "doesn't do political correctness".
This as he faces his former party's campaign machine, not to mention those of the other main parties that kept UKIP in fourth place in 2010.
Independent candidates have been elected before but it is rare and a challenge with the first-past-the-post electoral system.
Kerry Smith's pledges to be "proper" UKIP and his policy principles of leaving the EU, low taxes, no greenbelt homes and no social housing for new immigrants sound identical to his old party.
His old party brushed off his challenge saying if the people of Basildon want to get out of Europe only UKIP can deliver it.
But if he musters enough local support, he could take votes away from UKIP in a tightly-fought seat that was once Labour and now held by the Conservatives with a 5,772 majority.
---
In the recorded phone call, Mr Smith made offensive remarks about gay people, other UKIP members and Chigwell in Essex.
After resigning from the party, Mr Smith, who sits as an independent on both Essex County Council and Basildon Borough Council, told the BBC he may have been a victim of "black arts" within the party and that his remarks were no worse than the language in the TV comedy Only Fools and Horses.
UKIP said it would leave it to the people of Basildon to choose who represents them and would not comment on the impact Mr Smith might have on the their vote in May.