Young driver risks being 'ducked' - peers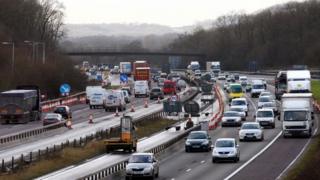 The government has "wimped out" of addressing the risks to road safety posed by some young drivers, a former Tory transport spokesman has suggested.
Earl Attlee told peers that the idea of graduated driving licences, which impose conditions on newly qualified drivers, must be properly looked at.
Speaking in the Lords, he also queried why cars were designed to go faster than the maximum speed limit of 70mph.
Transport minister Baroness Kramer said evidence-based policy was essential.
While ruling nothing out, she said the government was looking at the impact that technology, including the in-car tracking system known as telematics, could have on tackling problem driving rather than introducing new regulations or restrictions.
During exchanges in the Lords, a number of peers expressed frustration that a green paper on the issue promised by the government last year had yet to be published.
'Terrified'
Labour peer Lord Jordan said young drivers accounted for 20% of all road deaths while making up only 7% of all licence holders.
Claiming that previous efforts to reduce these figures had failed, he called for more radical steps to reassure the large number of parents of Britain who were "terrified" of the risks facing their children on the UK's roads.
Tory peer Lord Attlee, a former whip who was the government's transport spokesman in the House of Lords between 2010 and 2013, suggested the UK should follow the lead of Australia and many US states on imposing restrictions on new drivers, such as banning night driving and limiting the number of passengers of a similar age able to accompany them.
"Is it correct that the government has wimped out on introducing graduated licences and why is it that we allow motor manufacturers to build motor cars that can far exceed the prevailing speed limit?" he said.
'Useful direction'
In response, Lib Dem minister Baroness Kramer said there was a balance to be struck between prioritising road safety and ensuring young people could pursue their studies and travel to work.
The government, she said, was seeking to draw on research from the telematics system, in which black boxes installed in car dashboards relay information on driving performance to insurance companies.
"We have not ruled anything out but we think this is a very useful direction to pursue because it lets us target problem driving while many other youngsters who are driving well have the scope still to reach education and social events," she said.
The number of people killed on Britain's roads is at its lowest level since 1926, with the number of people seriously injured in 2013 - the last year for which statistics are available - 6% lower than the year before.