Hong Kong has 'met UK aspirations' says ex-Thatcher aide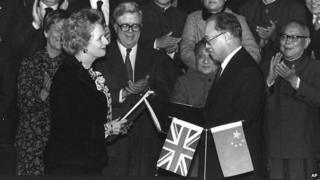 Hong Kong has largely remained the place the UK "hoped it would be" under Chinese control, a former adviser to Margaret Thatcher has said.
Lord Powell told MPs that Britain's "highest aspirations" for Hong Kong had broadly been met in the 30 years since it agreed to hand over sovereignty.
International perceptions of Hong Kong may have changed as a result of recent pro-democracy protests, he said.
But he believed there was not a "better place to do business in the world".
Hong Kong was convulsed by months of protests last autumn over the pace of political reform, with demonstrators unhappy about the extent of Beijing's influence over the election of a new chief executive in 2017.
Lord Powell, who was private secretary to Margaret Thatcher between 1983 and 1990 and one of her most trusted aides, told the Commons Foreign Affairs Committee that Hong Kong had not changed significantly since China assumed sovereignty in 1997.
The former diplomat was present at the signing of the Joint Declaration between China and the UK in 1984, in which the UK agreed to cede control of the colony to China and China agreed to respect basic freedoms and grant Hong Kong a high degree of autonomy under the principle of "one country, two systems".
'Free society'
Lord Powell told the committee, which is looking into UK relations with Hong Kong, that China had broadly honoured the letter and spirit of that agreement.
"Essentially Hong Kong remains the place we hoped it would be when negotiating and signing the Joint Declaration. That is, it would remain a free society, enjoy considerable autonomy and personal liberty and enjoy the rule of law."
Lord Powell said the UK had "not necessarily envisaged" at the time that Hong Kong would become a fully-fledged democracy.
"We had never done anything to instil democracy in Hong Kong," he added. "That was just not the way Hong Kong had been governed. It was not malice or some sort of political philosophy.
"It was a belief that if Hong Kong was given extensive democracy it might all too easily lose it again when China took over and that would be a terrible setback."
He added: "I think that, to be honest, we really did meet our highest aspirations in what resulted after 1997.
"There were many fears before that. People thought Hong Kong could not possibly be a free society under Chinese sovereignty and it could not continue to enjoy the rule of law and it has."
'Not so stable'
Asked about the recent mass street demonstrations, Lord Powell, who is now chairman of the Hong Kong Association trade body, said Hong Kong was "no longer seen perhaps quite a stable a place as it was" for foreign investors.
"It is unusual to see people demonstrating in those numbers and on that scale over such a long period. That could unsettle international business but so far I don't believe it has."
But he said it was "not a bad thing" that residents were becoming more politically active. "People have a lot of respect for the way the demonstrators behaved and the way they pursued their case," he added. "It was pretty remarkable."
Lord Powell, whose business interests include companies operating there, said UK firms could have few complaints about doing business in Hong Kong, although it was not regarded as the "gateway to China" in the same way it once was.
Foreign Office minister Hugo Swire is due to give evidence to the committee later on Wednesday amid a row with Beijing over its refusal to allow the committee of MPs to visit the colony as part of their inquiry.
Beijing claimed the committee was seeking to meddle in its internal affairs - a move MPs said was "highly regrettable" and "counter-productive".