Ed Davey 'confident' firms will cut retail energy prices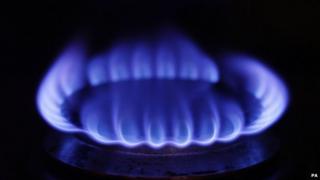 The energy secretary has told MPs he "confidently predicts" more energy firms will cut prices to reflect falling wholesale costs.
Ed Davey said greater competition in the market would force firms to offer consumers better deals.
He was speaking in a Commons debate where Labour called for new powers for regulator Ofgem to force firms to pass on savings.
The party's proposal was defeated by 305 votes to 228.
Opening the debate, shadow energy secretary Caroline Flint said consumers needed to be compensated for energy firms' failure to pass on savings to consumers since 2009.
"We know that wholesale costs have fallen, and we know too that energy companies will not pass on the full savings to all consumers unless they are forced to," she said.
Labour wants the government to fast-track legislation through Parliament to give Ofgem the power to force companies to reduce their prices when wholesale costs fall.
It has also pledged to freeze energy bills if it wins the election.
Mr Davey told the House of Commons Labour's Ofgem proposal would "increase volatility" and lead to higher prices for consumers.
The debate came after E.On announced it was cutting its standard gas prices by 3.5%, equivalent, it says, to £24 off an average annual household gas bill.
Mr Davey said Labour was in "complete confusion" on the issue.
He said he wanted the other big energy firms to lower their prices.
"But we won't need a regulation for that to happen," he said.
"I confidently predict competition will force the other large energy firms to cut prices or they will continue to lose customers in droves to competitors.
"That's competition."