David Cameron 'relaxed' about tax return being published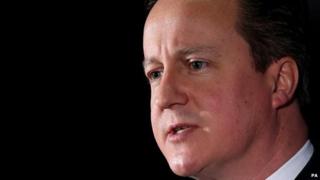 Prime Minister David Cameron says he is "very relaxed" about calls to publish his personal tax return.
Mr Cameron said he was paid "very handsomely" as prime minister and there would be "no surprises" if the document was made public.
He was said to support the idea in principle in 2012 as part of moves to improve transparency.
But at the weekend Chancellor George Osborne said there were currently "no plans" to publish it.
Mr Osborne told the Sunday Times there were "genuine issues around taxpayer confidentiality and how it would work in practice".
The initial suggestion came after rival candidates in the 2012 London mayoral election published their returns after a row over their tax payments.
Asked about the matter after a speech in Ipswich, the prime minister said nothing had changed in his stance.
"I am very relaxed about publishing these things," he said.
"There's no secrets about my status. I am paid very handsomely as your prime minister and that's my main source of income, and I have a house I used to live in before I moved into Downing Street and I rent that out and I get income from that.
"I don't have other sources of income. There will be no surprises in terms of my tax affairs but I am very relaxed as I've always said - nothing has changed about that issue."
Labour said in 2012 it would study any proposals on tax returns and "match anything the government actually does".