Ed Balls: Mansion tax won't be 'crude'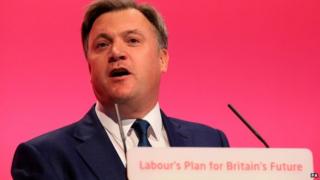 Shadow chancellor Ed Balls has defended Labour's planned "mansion tax" after the party's former Cabinet minister Lord Mandelson called it "crude".
Lord Mandelson said he did not like the idea of "clobbering people".
But Mr Balls said the tax on homes worth over £2m, which Labour plans to spend on the NHS, would be introduced in a "careful, consulted way".
He told BBC Radio 4's The World at One: "I promise you that it won't be crude. I do not want to clobber anyone."
Responding to Lord Mandelson's support for the Liberal Democrat idea of adding new higher council tax bands, Mr Balls said: "The important thing is that Peter supports a tax on high-value properties.
"He wants a banded system, I have said we are going to have a banded system.
"I promise you that it won't be crude, I do not want to clobber anyone, but want to make sure that people who are paying too little tax... that they pay their fair share for the National Health Service."
Labour has said its plans would see people with homes worth between £2m and £3m paying £250 a month, with the tax rising for more valuable properties.
Mr Balls declined to say what the tax rates would be for homes worth more than £3m, saying he had already given more detail on a planned tax than oppositions normally did.
He said he would "sit down with the Treasury" after the general election to go through the detail of the higher bands, which would be announced in the first Budget of a Labour government.
Homeowners will be offered an independent valuation if they are close to the edge of one of the bands, he said, while HMRC would check on those who choose to "take a punt".
Manifesto pledge
Lord Mandelson told the World at One he welcomed Labour's plan to "publish options on banding".
He previously told the BBC's Newsnight the mansion tax was "not the right policy response" to the question of how to tax property.
"I think it's crude, I think it's short-termist," he said.
The mansion tax is one of Labour's main 2015 manifesto commitments, with the proceeds due to be used to fund the recruitment of 38,000 new GPs, nurses, midwives and other NHS professionals.
It has said the tax would apply to fewer than 0.5% of homes in the UK, since the threshold for the tax will rise in line with average prices for high-value properties, not inflation.
Several Labour candidates for Mayor of London in 2016 have expressed concerns that the steep rise in house prices in the English capital in recent years will see family homes become liable for the tax.
Opposition 'chorus'
Labour MP and London mayoral candidate Diane Abbott called for the proceeds of the mansion tax to be spent in the area where it is levied, in London's case on social housing.
The Lib Dems, who originally called for a mansion tax on £1m properties before the 2010 election, have since refined their plans and called for a review of council tax bands in place since the early 1990s, with new bands above £2m introduced.
The Conservatives have questioned Labour's estimate of how much a mansion tax would raise and pointed to its planned reform of stamp duty bands and previous increases in taxes on properties bought through corporate and off-shore vehicles.
Conservative chairman Grant Shapps said: "With Mandelson joining the chorus of Labour voices opposed to Labour's homes tax, it is clearer than ever that Ed Miliband is a weak leader peddling a bad policy."