Analysis: Tensions over policy at the top of UKIP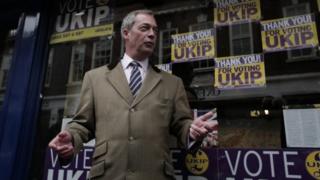 UKIP's first elected MP and its now ex-policy chief have had significant disagreements over what to do about the National Health Service.
Douglas Carswell, UKIP MP for Clacton, believes his party should commit to extra funding for the NHS - accepting the Tories' pledge to spend a further £2bn - as well as promising a real-terms increase after the general election.
But the BBC understands that Tim Aker, who has just been replaced as head of policy, has told people the NHS would not be ring-fenced in UKIP's spending plans, adding that the party would look into cutting the amount that is spent on managers.
There is also a major difference of opinion on defence spending. Mr Aker has expressed the view that the armed forces and military spending should be protected from any further cuts.
This is in direct conflict with what Mr Carswell thinks. He told the BBC that he was "uneasy with the argument that we should automatically spend more on defence".
In a BBC interview several weeks ago, the man who was re-elected to parliament after defecting from the Tories said "it's natural to want to spend more on healthcare", adding, "I wouldn't want to see any cuts in the NHS budget".
"It makes sense to want to spend more on healthcare given the advances in medical technology and given the demographics... that's right and proper and we support that."
He also said: 'We believe that more and more of our overall income should and will be spent on healthcare in the years ahead."
But in the final weeks of his role as manifesto chief, it was clear that Tim Aker had a different vision for the NHS.
He signalled that UKIP would not pledge to make cuts that would affect "the front line" but the party would be "looking into" reducing spending on non-clinical staff.
Nigel Farage has spoken about how "ridiculous" he believes it is to ring-fence the NHS, as all the political parties consider what spending plans to take into the election campaign.
He has since re-floated the prospect of radical reform of NHS funding, saying Britain will have to revisit the idea of introducing private insurance instead of a service funded solely by taxpayers.
The armed forces are a crucial part of UKIP's policy platform, with promises to guarantee jobs and housing for servicemen and women.
Tim Aker signalled that military spending would be protected under the party's spending plans, which is effectively a reversal of the cuts to the Ministry of Defence under the coalition and the previous Labour government.
The inference was that defence would be the only area of spending that was off the table in terms of cuts for UKIP.
For Douglas Carswell, the MoD has long been a problem, and he has not changed his view since he swapped sides in Clacton.
He told the BBC that he wants to "see reform in defence procurement" in particular. He didn't go as far as saying the MoD budget should be cut - further - but he clearly is not comfortable with a blanket protection for the military.
'I actually think UKIP needs to argue that it's all good and proper to spend more if we've got it, and can afford it, but actually we need reform in terms of how we spend money on defence," he said.
Tensions at the top
After he called for money to be spent "more intelligently and more wisely", I asked him if he thinks UKIP should demand cuts to the MoD budget?
"More bang for our buck," was his response. Would he be happy to see a real-terms rise in military spending? "Lets have some reform to make sure we get better outcomes," was his answer.
Differences of opinion and disagreements about direction are to be expected. But there's an on-going tension at the top of UKIP.
Nigel Farage's very public admission that he lost the battle over NHS policy, and now wants to revisit his idea, tallies with the evidence of distinct differences between Mr Aker and Mr Carswell - a tension that appears to be growing.
It is telling that Douglas Carswell is not now finalising UKIP's raft of policies and writing the manifesto. He told me he is playing a "small role" in what he described as a "collective endeavour". It is one that the leader has a veto over, with Nigel Farage described by one senior figure as the "final level of scrutiny".
The person appointed to complete the manifesto is Suzanne Evans, deputy chairwoman of the party; the person I suspect Mr Farage may have been alluding to when he told me last autumn that he thinks a woman would succeed him as leader.