Child abuse inquiry needs to start again - Labour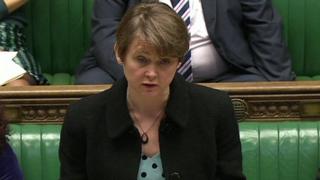 Labour has said there is "no choice" but to restart the inquiry into historical child sex abuse, with a new chair and statutory powers.
Shadow home secretary Ms Cooper said that after six months the inquiry still had no chair, powers or clarity.
Raising the matter in the Commons, she warned that survivors of abuse "are being let down".
Home Secretary Theresa May told MPs she would announce the new chair and powers for the inquiry at the end of January.
Mrs May also said a file found in the National Archives containing allegations of "unnatural sexual" behaviour at Westminster was being looked into.
She said the file was thought to be a duplicate of one already seen by the Wanless inquiry, "but of course we are checking that".
'Six months on'
Mrs May was summoned to make a statement on the inquiry into historical child sex abuse allegations after Labour was granted an urgent question by the Speaker.
It comes a day after the panel announced it had ceased its "listening sessions" with victims of abuse until a new chairman was announced.
The Home Affairs Committee also heard evidence this week of disagreement between panel members, with one member alleging she had been bullied.
Ms Cooper said the home secretary risked "making a fool of everyone" because the inquiry "has stalled again".
"We are six months on. Still have no chair, still no powers, still no clarity. It is deeply unfair on survivors of abuse who need to be listened to and who need justice," she said.
The Labour front bencher told Mrs May it should "not be beyond the wit of a home secretary" to realise that the inquiry needed to be relaunched.
"Given the seriousness of this I now fear there is no choice but to start this inquiry again properly with a new chair and statutory powers, and proper consideration of the scope and purpose involving the survivors themselves."
Mrs May said she was "absolutely committed" to finding the right chairman for the inquiry, after the first two nominations stood down.
Fiona Woolf and Baroness Butler-Sloss resigned following claims about their perceived closeness to establishment figures.
The home secretary told the House of Commons that more than 150 nominations had since been put forward, which had to be carefully considered.
"I am sure that everybody in the House would recognise that we want to get this right and we want to ensure that we have the right chairman and the right powers."
'Due diligence'
Mrs May also said the panel needed the appropriate powers to carry out its inquiry, including the ability to compel witnesses and have full access to all evidence.
This was why she had written to panel members last month, she said, to set out three options being considered to give the inquiry full statutory powers.
Only one option does not require the panel to be disbanded.
Mrs May said she had confirmed to panel members that a decision on the right model for the inquiry, and its chairman, would be announced by the end of January.
"It remains my intention to make a statement to the House shortly after I have made that decision and after the necessary interviews and due diligence work have taken place," she told MPs.
Mrs May defended the panel's decision to halt its "listening sessions" with abuse victims.
"I respect their decision. I understand it must have been a difficult one for them, but it is a decision for the independent inquiry panel members to take," she said.
Mrs May was also questioned on a previously classified document - discovered in the National Archives - relating to events said to have taken place in the 1980s.
Mrs May said the file had been passed to the police although she said it was thought to have already been seen by Peter Wanless's review into the Home Office's handling of child sex abuse claims in the 1980s.
Labour MPs Simon Danzcuk and Tom Watson, who have campaigned on the issue, called for the file to be published, saying there was a "clear public interest".
Mrs May reiterated that the the file had been given to the police and assured MPs "it will be made available as it is my intention that all files should be made available to the inquiry".