Election 2015: Benefit cap 'encouraging work' says PM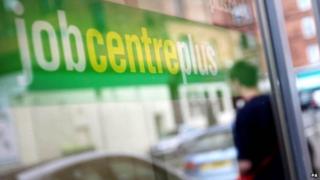 David Cameron has defended Conservative plans to reduce the annual benefits cap from £26,000 to £23,000 if they remain in power after the election.
He said he was heeding public concerns the cap, which sets a maximum benefit limit for individual households, was set at too high a level.
The cap, he said, had encouraged people to look for work and he rejected calls for child benefit to be exempted.
Critics have said a lower cap could increase levels of child poverty.
Labour has said it backs the principle of a cap, which was introduced in England, Scotland and Wales in 2013, but will ask an independent commission to look at whether it should be lower in some areas.
In a series of media interviews marking 100 days until the general election on 7 May, the Conservative leader also dropped what is likely to be seen as a hint that his party will continue to protect pensioner benefits like the winter fuel payment and free bus passes.
The welfare cap limits the total benefits that households can receive to £500 per week.
The coalition government set the level at £26,000 in April 2013, arguing that this meant households claiming benefits should be no better off than the average family in work.
The Institute for Fiscal Studies has said about 27,000 families have been subject to the cap so far, with their total benefits reduced by about £100m.
---
The benefits cap
Since June 2013, the total amount of benefit that working-age people can receive has been capped so households on out-of-work benefits will not receive more than the average household weekly wage.
It applies to combined income from the main out-of-work benefits - Jobseeker's Allowance, Income Support, and Employment Support Allowance - and other benefits such as Housing Benefit, Child Benefit and Child Tax Credit, Industrial Injuries Disablement Benefit
There are exemptions for households in receipt of Working Tax Credit, Disability Living Allowance or its successor Personal Independence Payment, Constant Attendance Allowance and war widows and widowers.
---
Mr Cameron announced in September that the cap would be lowered to £23,000 if the Conservatives formed the next government and the savings made would be used to fund three million new apprenticeships.
Highlighting the policy in an interview with Radio 4's Today programme, he said the cap was having the desired effect and that about 40% of households which were no longer subject to the limit had found work.
"The evidence is that the cap set at £26,000 has worked. Many thousands of households that were subject to that cap have gone out and found work.
'Issue of fairness'
Limiting the amount of state support a household could receive was a "basic issue of fairness", Mr Cameron said, recalling what he said about the responsibilities of the state when he entered Downing Street for the first time as PM in May 2010.
"I don't think a family should be able to get more in benefits than someone going out to work, working every say and trying to do the right thing for them and their family.
"As I said on the steps of Downing Street four and three quarter years ago, those who can should and those who can't we always help."
While it was right to exempt disability benefits from the cap, the same protection should not be extended to child benefit, he said.
The Child Poverty Action Group has said lowering the cap "would pile on the misery for working and non-working families already struggling to pay for absolute basics".
Pensioner benefits
But asked whether there was a risk of impoverishing families with multiple children where no individuals worked, Mr Cameron said "not if they go out and get a job".
He added: "This country is generating jobs at a record rate and there is a record number of vacancies today...The way to escape the welfare cap is to get the help and training that is there in order to get a job."
But Conservative MP Sarah Wollaston said she would not be able to support a separate proposal that has been mooted to remove housing benefit from 18-to-21-year olds who are on Jobseekers' Allowance.
"I would not personally support taking away housing benefit from the very young because there is an issue we need to discuss about inter-generational fairness," she told the BBC's Daily Politics programme.
Mr Cameron has also indicated pensioners could continue to be protected as part of Conservative plans to find a further £12bn in welfare savings in the next Parliament.
At the last election the Conservative manifesto promised that along with free TV licences and the pension credit they get would go untouched.
Mr Cameron told Today: "I've always said there aren't huge savings to be made from axing these benefits and pensioners welcome the clarity that's there's been."
Labour said it would take away the winter fuel allowance from the wealthiest pensioners, those with incomes of more than £42,000 a year.
"It is a tough choice that we are making that the Conservatives are not making," shadow chancellor Ed Balls told the BBC News Channel.