Behind the scenes at Westminster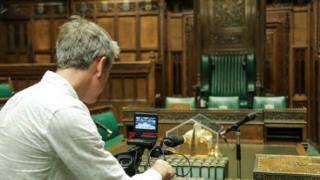 A new BBC/Open University television documentary, Inside the Commons, goes behind the scenes to show parts of Parliament never before seen by viewers.
The Palace of Westminster, all eight acres of it - boasting more than 1,000 rooms, 110 staircases and three miles of corridors - is a curious place, where echoes of the past and the needs of a modern democracy sometimes clash.
The Gothic fairytale fabric of Charles Barry's 19th Century building and the sometimes archaic dress of those who work there - including knee breeches, legal wigs and wing collars - have led to its current nickname: Hogwarts.
The new four-part television series is presented by the political documentary-maker, Michael Cockerell - best known for insightful televisual "portraits", as he calls them, of politicians including Margaret Thatcher, Enoch Powell and Michael Foot.
For the first time ever, video cameras have been invited onto the floor of the Commons chamber, allowing viewers to see exactly what MPs see during big parliamentary events like prime minister's questions (PMQs).
Debates in the House have been fully televised since November 1989 and other TV programmes, including the 1983 BBC series The Great Palace: The Story of Parliament, have focused on its inner workings.
But the sheer amount of unprecedented access given to Cockerell and production company Atlantic Productions, who filmed behind the scenes for a year, has allowed them to take a unique look at our democracy in action.
It took them six years to persuade the authorities, including appearing before a select committee, before a final recommendation was given to the House of Commons Commission, which agreed to the proposal.
For many people PMQs - the half-hour on Wednesday lunchtime when a noisy and packed Commons chamber is often the scene for a passionate showdown between the leaders of the two main parties - is the highlight of the political week.
Prime Minister David Cameron is frank about his view of the weekly knockabout.
"There isn't a Wednesday that you don't feel total fear and trepidation about what is about to happen," he admits to Cockerell. "I think prime ministers have always felt that."
Labour leader Ed Miliband explains that "once you're in it you sort of forget about the nerves. And it's try and do the best job you can.
"The anticipation, I find, is worse than the reality. I've met no leader of the opposition or prime minister that ever says they look forward to prime minister's questions."
But, among MPs, there are mixed opinions about PMQs.
"My toes curl when I hear it," says the Commons' most senior member, the Conservative Sir Peter Tapsell.
"It would have been inconceivable, 25 years ago, that party leaders would address each other like that, across the floor of the House of Commons."
His Conservative colleague, Jacob Rees-Mogg, disagrees, explaining that PMQs "is the theatre of politics. And that's quite right. It can't all be done in dusty committee rooms."
But how did honourable members react to Cockerell and his team filming them?
"Most MPs, I think, were pleased it was made. A number of MPs were so pleased it was being made that they kindly volunteered their services," he says.
There was, he adds, "a small group of ultras, who in some ways had never never reconciled themselves to television", with a "general hatred of the media" in the wake of the expenses scandal, who made it clear they were against the project.
The series is about much more than MPs, though, highlighting many of those responsible for the smooth running of "the mother of parliaments".
Gladys Dickson, who runs the Members' Tearoom, and whose hymn-singing echoes down the corridors, explains where members of different parties sit - in jealously guarded groups - in this famous watering hole.
And Sir Robert Rogers, the Commons clerk and chief executive who resigned his post in 2014, is seen juggling the need to conserve the fabric of the building while bringing its facilities, most notably IT, into the 21st Century.
As he puts it: "We're trying to run a modern parliament in a Victorian building."
The cameras also follow a team of abseilers cleaning the 360 panes of glass covering the clock face on the Elizabeth Tower, known to all as Big Ben, and assessing if it needs repairs.
The series features two new MPs as they delve into Parliament's quirks and customs, as well as seasoned veterans like the Liberal Democrat Charles Kennedy - who admits to still getting lost in the building at times - showing viewers the pink ribbon on each MP's coat hanger from which to hang their sword.
As to its quirkiness, Sir Robert Rogers believes that even the dressing up plays an important role in parliamentary life. "The formality that we have... provides a rather dignified framework within which the rough and tumble of politics takes place.
"I may wear 18th Century clothes - it doesn't give me an 18th Century mind."
Michael Cockerell agrees that some of the old-fashioned methods still work. The system of MPs going through the division lobbies to vote "connects people with the chamber. A chance to go and have a quiet word with a minister."
MPs told him that they often get a lot of work done in those eight minutes it takes them to vote.
Cockerell's picture of the Commons - which David Cameron calls a mixture of museum, church and school - highlights its many facets, arcane and accessible, modern and mundane, like no other documentary before.
But would he ever consider becoming an MP?
"I'm a politics junkie," he explains.
"Many politicians, because of the nature of their job, have to put the gloss on things. I would say that my job is to scratch it off."
The first episode of Inside the Commons is on BBC Two at 21:00 GMT on Tuesday 3 February.