Green leader Natalie Bennett backtracks on terror groups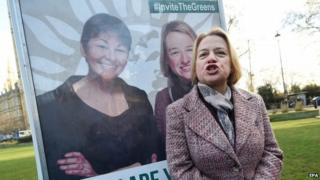 Green Party leader Natalie Bennett has attempted to clarify her position on whether it should be a crime to belong to terror groups like Islamic State.
Last week she suggested it should not be a crime because people should "not be punished for what they think".
But when she was challenged about this at an event earlier on Tuesday, she appeared to backtrack.
She said membership of such "hideous" groups was tantamount to inciting violence and should be an offence.
The Greens have seen a surge in membership and has overtaken the Liberal Democrats in some recent opinion polls but its opponents say that its policy-making process is in chaos and it is not clear what firm commitments it is making.
The party has hundreds of pages of policies on their website, which have been voted on by party conferences over the years or represent longstanding aspirations.
They are official party policies but many are unlikely to feature in this year's election manifesto, which is being drawn up through a separate process and specifically approved by members.
In one policy statement, the Green Party states it "should not be a crime simply to belong to an organisation or have sympathy with its aims, though it should be a crime to aid and abet criminal acts or deliberately fund such acts".
In an interview on the BBC's Sunday Politics last month, Ms Bennett was asked by presenter Andrew Neil whether this meant people would be allowed to be a member of al-Qaeda or Islamic State,
She replied: "Exactly. What we want to do is make sure we are not punishing people for what they think or what they believe.
"Obviously actions of inciting violence, supporting violence, those are absolutely unacceptable, illegal and should be pursued to the full extent of the law."
She added: "What we are talking about is a principle that you shouldn't be punished for what you think. And we need to balance, we do not protect freedom by destroying it."
'Absolutely unacceptable'
But speaking on Monday at a "Ask the Leaders" event also addressed by David Cameron, Ed Miliband and Nick Clegg, she appeared to distance herself from the idea.
"Obviously IS and al-Qaida are hideous terrorist organisations that advocate and support violence," she said. "If you are involved in them, support them in any way, then you are participating in inciting violence.
"That's a crime, rightly, and should be pursued to the full extent of the law."
The government currently maintains a list of "proscribed organisations" which are banned by law. It is illegal to belong, or profess to belong, to an organisation on the list.
The Green Party, which has been invited to join two of the planned live TV election debates if they take place, has also pledged to scrap the UK's nuclear deterrent, scale back the armed forces, reduce border controls, nationalise the railways and introduce a "basic citizen's income" of £72 a week, regardless of wealth or need.
Ms Bennett has previously suggested that the details of how all these policies would be paid for would be included in its 2015 general election manifesto.
'Red lines'
But former leader Caroline Lucas told the BBC on Monday the idea of a citizen's income was a "long-term aspiration" and would not feature in the manifesto.
None of the party's policies, she told Radio 4's Today, should be treated as "red lines" in the event of a Hung Parliament and negotiations over whether the Greens would support a future coalition government headed by another party.
"Up to six months ago, we were a small party with a shoestring staff. We are not going into this election saying we are going to win and become the next government".
"What we are going to do is to put forward some radical and visionary ideas which this political system needs so badly. What we are also going to do, with a handful of MPs, is to push Labour in particular to be far more progressive."
On its website, the Green Party says its policy platform is an "organic and evolving document that reflects past and present priorities and principles that will be represented in manifestos".