Lobbying rules a 'dog's breakfast' says MP Graham Allen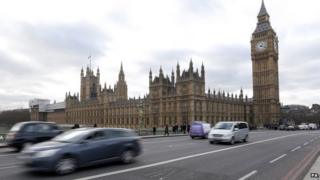 The government's lobbying register has been described as a "dog's breakfast" by the chairman of a Commons committee.
Graham Allen's comments came after new guidelines were published setting out who needs to sign up to the new register and what should be declared.
Mr Allen, who chairs the Political and Constitutional Reform Committee, said the new regime had already caused confusion in the industry.
Ministers have said their reforms to lobbying law will clean up politics.
Lobbyists are firms or individuals paid to influence government decisions. They are often former politicians or civil servants who have developed personal contacts with those in power.
Before the last election, Prime Minister David Cameron said lobbying was "the next big scandal waiting to happen" and the coalition pledged to introduce a statutory register of lobbyists when it came to power in 2010.
Declare conversations
The Transparency of Lobbying, Non-Party Campaigning and Trade Union Administration Act became law last year after criticism of its impact on charities and resistance in the House of Lords,
Issuing the new guidance, the government's lobbying registrar Alison White said the register was intended to improve transparency.
She set out when someone would be deemed to have made the relevant "direct oral, written or electronic communications" to a government representative.
Her guidance said lobbying could include "a face-to-face meeting within a government office, at a restaurant, at a party-political conference".
According to Public Affairs News magazine, this "suggests that lobbyists may have to pay thousands of pounds to join the register to declare conversations they did not initiate".
Nicholas Dunn-McAfee, of the Public Relations Consultants Association, said the guidance had answered some of the "unanswered questions" about the new rules, but added that the "potentially very high cost" of joining the register had yet to be explained.
Scrutiny call
The political reform committee has previously criticised the government's approach to the register, including the decision to exclude "in-house lobbyists" who lobby on behalf of an organisation they work for.
Labour MP Mr Allen said: "My committee saw at the time that this lobbying Bill was a dog's breakfast that would return, needing more work, before long."
He added: "While the registrar is within her rights to issue guidance on the activity which will require a consultant lobbyist to join the register, the industry still appears confused about how the register will work in practice.
"This confusion could have been cleared up had the bill been given the pre-legislative scrutiny it richly deserved."
While in-house lobbyists remain outside the scope of the register, Mr Allen said: "The Act remains an unsatisfactory means to increase transparency about lobbying activity."