Miliband's 'on your side' Commons gamble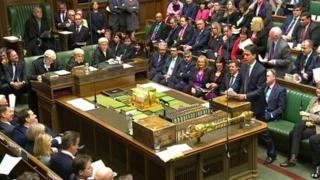 The morning after the Newsnight embarassment before, Ed Miliband did something rather interesting.
He chose to march towards the sound of Tory gunfire.
The Labour leader knew that if he dared to raise anything about the economy at Prime Minister's questions he'd face taunts about Ed Balls's struggle to name a business backer at last night's Labour dinner.
So why did he take the risk?
Because Mr Miliband believes he can win the election by convincing voters that he is "on your side". That means being seen to stand up not to business per se but to "bad business" practices - whether tax avoidance or overcharging customers.
Today he branded the Conservatives "the party of Mayfair hedge funds and Monaco tax avoiders" - that last phrase a reference to the Monaco-based boss of Boots who has warned that Labour's policies could be catastrophic.
The Tories believe that all this will merely prove that Labour is a left-wing anti-business party and they have encouraged some of their prominent backers to join in the criticism of Mr Miliband.
In his interview with the BBC, the CBI's president is hinting that many business leaders are as anxious about Tory plans for a referendum on the EU as they are about a Labour victory at the election.
Some have advised Ed Miliband that if only he sounded more pro-business some might be willing to say so clearly in public. It's advice he's ignored.
Update: I've corrected the earlier version of my blog as Ed Balls was not asked to name any business backer of the party as I suggested earlier.