Miliband business fears divide New Labour veterans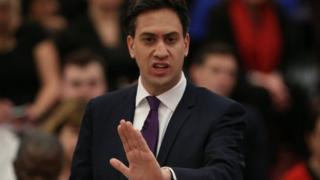 Business leaders should not fear Labour, Lord Levy has said, after fresh criticism of the party's approach.
Tony Blair's former fundraiser said the party would "work with business" if it gained power in May.
His comments come as Carphone Warehouse co-founder Sir Charles Dunstone, an ex-Labour supporter, said Ed Miliband had "isolated" himself from businesses.
Sir Charles is the latest senior corporate figure to criticise the Labour leadership.
But Lord Levy said the telecom tycoon's comments had left him "somewhat saddened" and that he continued to back Labour.
"I do not give up on Ed Miliband and the Labour Party… because I do believe that they will work with business," he told BBC Radio 4's The World at One.
"I would be much more fearful running a large corporation of the Tory party getting out of Europe and having a referendum on Europe than I would on some of the comments that have been made by Labour."
'Bill Somebody'
Criticism of the Labour leadership's attitude to wealth creation intensified on Tuesday when shadow chancellor Ed Balls forgot the name of Bill Thomas, Labour's small business adviser, in a BBC Newsnight interview.
His memory lapse prompted David Cameron to claim in Wednesday's Prime Minister's Questions that "Bill Somebody is Labour's policy".
Lord Levy, defending Mr Balls, said the shadow chancellor's "touch of amnesia" was "one of those things".
But he conceded Sir Charles's complaints needed to be taken "very seriously".
The Carphone Warehouse chairman, who publicly backed Labour in 2005, told the Financial Times: "As a business person I'm frightened of an environment where there isn't sufficient emphasis put on growing the economy to grow tax receipts to spend more money."
And Tony Roulstone, the vice-chairman of Labour's small business task force, conceded on The World at One that Labour's message "hasn't really been put forward consistently or in a strong enough way".
Employee buyouts
Labour attempted to seize back the initiative on business by proposing a new policy to help employees under threat of redundancy buy the company that employed them.
Employers would be able to "seriously consider" a staff offer for a company that was being sold, dissolved or floated on the stock market, Mr Miliband suggested in an article for the Co-Op News.
He said: "Many employers looking to sell their companies value these buyouts because they transfer ownership to people with a genuine interest in the firm's long-term success."
Reports of moves by New Labour veterans to undermine Mr Miliband's leadership have continued to emerge, however.
The Financial Times reported Lord Mandelson and Alastair Campbell contacted former home secretary and best-selling author Alan Johnson during last autumn's rumours of a leadership plot.
A Labour source denied the FT's report, saying: "Peter Mandelson and Alastair Campbell phoned Alan Johnson to ask if the rumours were correct. They found out they were false."
Mr Johnson - seen by supporters as a more voter-friendly alternative to Ed Miliband - has always insisted he is not interested in becoming Labour leader.