Flood funding plans unclear, say MPs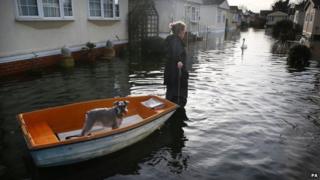 MPs have expressed concerns about the government's ability to attract £600m in private sector investment for flood defence schemes in England.
Ministers have said external finance from councils and private sources is "essential" to supplement £2.3bn in government funding for 1,400 projects.
They say their partnership model is delivering results, with Nestle among a number of firms part-funding schemes.
The Environment Committee said it was unclear how the target would be met.
In response to last winter's floods across the West Country and southern England, which were the worst for decades, ministers announced what they said was the largest and most ambitious programme of flood defence improvement ever seen.
More than 1,400 projects are to be carried out in Lincolnshire, Kent, Surrey, Berkshire, Oxfordshire, the Humber and on the Somerset Levels by 2021, with the aim of protecting 300,000 properties and preventing £30bn worth of economic damage.
'Cause for concern'
The Department for the Environment, Food and Rural Affairs (Defra) has said the £2.3bn in capital expenditure committed by the government is 9% higher than that spent between 2011 and 2015.
But in a new report examining the department's priorities, MPs said the level of private contributions pledged so far was a "cause for concern".
"The government's plan relies on external contributions of £600m," said Anne McIntosh, the Conservative MP who chairs the cross-party committee.
"We support the principle that the private sector should help to fund new flood defence schemes but we have repeatedly expressed concern about the relatively small amounts of private sector funding secured to date under the Partnership Funding approach."
Funding certainty
Of the £148m secured since new rules were introduced in 2011, she said £40m had come from sources other than local government.
"It is unclear how the £600m target can be met and we want Defra to demonstrate how it intends to obtain that money and to explain the impact on its investment programme if the money does not come forward."
The government says committing money over a six-year period, instead of on an annual basis as was the case before 2011, provides greater certainty to communities and potential partners, allowing them to deliver the maximum value.
Ministers have also overhauled the way projects are taken forward and funded by separating them into different categories - in construction, in development and in the pipeline - dependent on their readiness to proceed and financial viability.
This, they say, will ensure greater efficiency by enabling contractors to get involved at an earlier stage, allowing them to align projects with other work in the area and to encourage a more integrated approach.
'Tax relief'
It cites Nestle's involvement in a £9.3m scheme to build new flood defences in Derbyshire, a scheme which protected more than 1,600 households and allowed the Swiss multinational food firm to create 400 extra jobs on a nearby site, as an example of collaboration.
In a statement, the Defra said it expected to have raised £140m in external funding between 2011 and 2015, compared with £13m in the previous four years.
"We are working closely with the Environment Agency to attract more investment and are introducing tax relief for business contributions to flood risk management projects from 2015 onwards to encourage more investment," a spokeswoman said.
In its report, the MPs also questioned the government's "slow progress" on creating marine conservation zones in UK offshore waters and inshore in England and Wales.
It also said the UK had, in effect, been fined £580m by the European Commission since 2005 for making inaccurate payments to UK farmers under the terms of the EU's Common Agricultural Policy and there was "significant risk" of further financial penalties.
Defra said 27 marine conservation zones had been designated, protecting rare and threatened species in a quarter of English inshore waters.