Call for more non-politicians on Commons standards body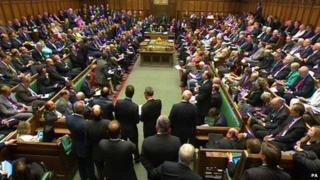 A parliamentary committee which polices the conduct of MPs should have more non-politicians on it to strengthen its independence, a report says.
The Commons Standards Committee was criticised last year for its handling of an investigation into former culture secretary Maria Miller's expenses.
It decided Mrs Miller should pay back a much lower sum than that recommended by the parliamentary standards watchdog.
It is now being urged to increase its lay members from three to seven.
This would mean that MPs and non-politicians would be equally represented on the committee, which has the power to sanction MPs for abuse of parliamentary expenses and other misdemeanours.
The committee's future was called into question last summer amid a row over Mrs Miller's expenses, which led to her resignation from the government.
The parliamentary standards commissioner concluded that Mrs Miller over-claimed by £45,000 for expenses towards mortgage interest payments and council tax on her family home in London and recommended the MP should repay the full sum.
'Public concerns'
But the standards committee, which has the final say over such matters, decided the Conservative MP should pay back £5,800.
The committee currently has 10 MPs and three lay members sitting on it, with the latter not allowed to vote on matters before it.
A report by Peter Jinman, one of the committee's three lay members, broadly endorsed the current system of self-regulation, suggesting there was widespread misunderstanding in the media and within Parliament itself about how the committee operates in relation to the commissioner and other bodies.
However, it recommended that the number of non-politicians on the body be increased from three to seven and the number of MPs reduced by three to seven.
This, his report says, would help to "allay public concern" about its independence "while still allowing MPs to be appointed in rough proportion to representation in the House".
Voting rights
The report rejects calls for lay members to be given a vote, saying this could be subject to a legal challenge and conflict between Parliament and the courts unless legislation was passed to put the arrangement on a statutory footing.
It says lay members already have significant powers, including the power to withdraw from a meeting which would mean it would no longer be quorate.
It says these powers should be enhanced, with any dissent expressed by lay members to committee decisions recorded in reports and encouragement for them to consider matters not directly relating to investigations by the commissioner.
"The Commons disciplinary process already includes more external input than any other parliamentary system we identified," Mr Jinman said.
"Nonetheless... increasing the external membership of the committee would clearly demonstrate the House's willingness to embrace high standards and to learn from others in doing so."
Kevin Barron, the Labour MP who chairs the committee, welcomed the report as a "thoughtful contribution to the debate about standards".
"I hope it will dispel some myths and that its recommendation will be acted on, both now, and in the next Parliament."