Harriet Harman denies 'too pretty for politics' claim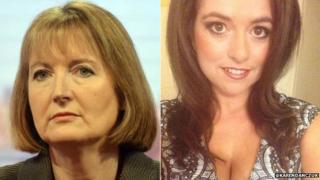 Deputy Labour leader Harriet Harman has denied telling a Labour councillor she was "too pretty" to be in politics.
Karen Danczuk, a Rochdale councillor and wife of Labour MP Simon Danczuk, made the claim in a tweet on Wednesday.
Mrs Danczuk, who describes herself on Twitter as "Queen of the Selfie", said Ms Harman had told her she should be in pop group Girls Aloud when she met her.
But Ms Harman, a shadow equalities minister, said it was "inconceivable" she would ever have said such a thing.
"I have always believed it's what you do in politics, not what you look like. I have never discouraged a woman from getting involved in politics on the basis of their looks," she said in a statement.
'Patronising'
Mrs Danczuk, who has been a councillor since 2011, had posted on her social media account: "When I first met Harriet Harman she said I was far too pretty to be interested in politics and should be in Girls Aloud."
The councillor, who has attracted media coverage for posting a lot of selfies on social media, also took a swipe at Ms Harman's "woman to woman" campaign van.
The van, which is touring the UK as part of Labour's campaign aimed at women voters, attracted ridicule on social media for its pink colour, forcing Ms Harman to defend it.
But Mrs Danczuk branded the vehicle "patronising".
"What women voters want from politicians is their concerns heard in a serious manner," she said in a tweet.
The councillor announced in January that she was standing down the council to "pursue other interests and achieve a better balance between work and family life".
She was elected in 2011 with a majority of 1,458.