Political donations: Conservatives received most in final quarter of 2014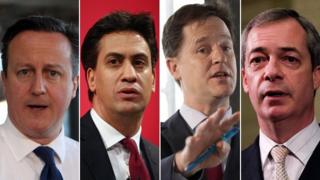 The Conservatives received the most in donations in the final quarter of 2014, according to the Electoral Commission.
The party took home £8,345,687, compared to Labour's £7,163,988.
Ed Miliband's party remained heavily-backed by trade unions, and was also supported by accountancy firm PricewaterhouseCoopers.
Donations to the Lib Dems totalled £3,038,500 - giving the party an annual record total - while UKIP reported £1,505,055 and the Greens £248,520.
In total, eight British political parties received £20.3m in donations between October and December 2014, the figures show.
This figure is more than £5m higher than the previous quarter - and up £10m on the same three months in 2013.
BBC political correspondent Ross Hawkins said donations were higher than normal because of the upcoming general election.
"There are still plenty of people out there who want to give their hard-earned cash to the parties," he said.
In addition to these donations, six parties accepted £3,834,816 from public funds - mainly so-called Short money to help opposition parties with policy research and other costs - during the final quarter.
---
Political party funding Oct-Dec 2014
Party
Donations excluding public funds
Public funds
Total accepted in quarter four 2014
Conservative Party
£8,345,687
£19,454
£8,365,141
Labour Party
£7,163,988
£3,724,492
£10,888,480
Liberal Democrats
£3,038,500
£9,934
£3,048,434
UK Independence Party (UKIP)
£1,505,055
£0
£1,505,055
Green Party
£248,520
£16,038
£264,558
Scottish Green Party
£16,032
£0
£16,032
Scottish National Party (SNP)
£5,580
£45,498
£51,078
English Democrats
£3,500
£0
£3,500
Plaid Cymru
£0
£19,400
£19,400
TOTAL
£20,326,862
£3,834,816
£24,161,678
---
Unison, Unite and GMB unions were the top three biggest donors in the final quarter of 2014, giving more than £3.6m combined to the Labour Party.
Of the top 10 highest spending donors, there were no individuals giving money to Labour but the party did accept £386,605 from PricewaterhouseCoopers (PwC).
Senior Labour MP Margaret Hodge, who chairs the Public Accounts Committee, has criticised the shadow cabinet for accepting support from the firm, which her committee accused of "promoting tax avoidance on an industrial scale".
PwC said at the time that it disagreed with the conclusions of the report.
Labour said the company had provided "longstanding staff support to all three major political parties on a non-party basis" with the same happening for the Conservatives and Lib Dems under the previous government.
This support enables "better scrutiny of government policy", a party spokesman said, adding: "The secondments provided by these companies are often relatively newly qualified staff. Secondees do not influence opposition policy decisions.
"Where organisations provide staff to support research and analysis for opposition parties it is right that these are declared - as currently happens - in the Register of Members' Interests."
Hedge funds
Meanwhile, the biggest donor to the Conservatives was Michael D Gooley, the founder of travel agent Trailfinders, who gave the party £500,000.
The Lib Dems reported a £400,000 bequest from a party member, Max Batley, while UKIP received £394,254 from Rock Services Limited, the company owned by its largest donor, insurance tycoon Arron Banks.
Commenting on the new figures, Conservative Party chairman Grant Shapps said Labour leader Ed Miliband was "utterly reliant" on the trade unions.
But Labour's shadow Cabinet Office minister Jonathan Ashworth said the Conservatives were dependent on funding from the hedge fund industry and millionaires.
The party's analysis of the newly-released data suggested the Tories received almost £2m from donors associated with hedge funds, and £4m from people who had attended private dinners with the PM or other senior ministers.
'Funding reform'
Deputy PM and Lib Dem leader Nick Clegg urged all parties to agree a deal to "clean up party funding... once and for all".
He said a new agreement should be signed within six months of the next government being formed, saying it would be one "silver lining from the latest controversy on party funding".
Green Party leader Natalie Bennett said the largest parties had kicked party funding reform "into the long grass".
She added: "To cut the rot of vested interests from our politics we should move towards a system of state funding for political parties."
The Commons Political and Constitutional Reform Committee chair, Labour MP Graham Allen, has also called for urgent progress on party funding reform.
His comments come after the chairman of another parliamentary committee, Lord Bew, warned of "large-scale public scepticism" about the way political parties are funded.
There have been £65.6m of donations for political parties in 2014.
The Conservatives received the most money in donations last year - £28.9m, compared to £18.7m for Labour, £8.2m for the Lib Dems, £3.8m for UKIP and £3.7m for the SNP.
Despite recent poor poll performances, the Lib Dems set a new party record, raising £1.5m more in 2014 than their previous annual record.