Could UK politics go a little bit Swedish?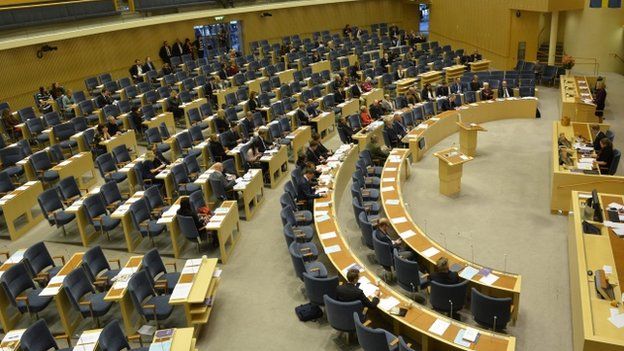 Imagine for a moment that a Conservative-led coalition is defeated at the general election.
It is replaced by what could loosely be called a centre-left coalition that includes the Green Party. But this new government does not have a majority in parliament. It represents only the largest minority group and survives day to day by scraping together temporary coalitions - deal by deal, issue by issue.
Then, two months in, there is a crisis. The larger opposition parties join up with a smaller, insurgent party to block the government's budget. A constitutional stand-off ensues. The centre-left prime minister with close links to the unions stuns the political establishment by calling fresh elections.
This puts the fear of God into all sides. No party wants or can afford another election campaign so soon after the last one. A deal is done between the establishment parties to break the impasse over the budget.
Incredibly, the new government agrees to implement its conservative opponent's tax and spending plans for four months. After that the government can begin implementing its own plans to raise taxes and spending.
And even more amazingly, the mainstream parties also agree to support each other's budgets until 2022, depending on who is in government.
Now you might think this scenario was dreamt up by a bold political pundit thinking through what might happen after 7 May, the date of the UK general election. Or perhaps it was the fantastical outcome of some political war game carried out in the bowels of Tory or Labour headquarters.
In fact, this is a description of reality, a brief account of politics in Sweden since last September. And with many polls suggesting that no party in Britain may win a majority in May and all parties showing an extreme reluctance to contemplate coalition government, it is a scenario that bears some scrutiny.
Could something like this happen in Britain?
The obvious, immediate answer is no. Our political systems are different. We do not elect our politicians using proportional representation. This means that it would be very hard for UKIP to win enough seats to hold the balance of power as clearly as the anti-immigration party, Sweden Democrats, that held the government in Stockholm to ransom.
The UK does not have the same political culture as Sweden where coalitions, compromise and dealmaking are the norm.
By definition, a minority government in the UK would exist only if it had secured agreement from other parties to support its budgets - the "supply" bit of so-called "confidence and supply" deals. Such is the hostility between Labour and the Conservatives that any kind of "national government" type of agreement is unlikely.
And yet, having spent a few days in Sweden talking to the prime minister and other political figures, there are some similar themes that look possible in the UK.
Hostility, alienation and feeling vulnerable
The Sweden Democrats party bears an uncanny resemblance to UKIP with whom it sits in the European Parliament. The party won 13% of the vote in September's elections.
Yes, Sweden Democrats have a more extreme past than UKIP and the party has yet to demonstrate the breadth of support that UKIP is gaining, but both parties are drawing from the same well: voters who feel hostility to immigration, alienation from mainstream politics, and a sense of vulnerability to global economic forces.
And while it might be hard for UKIP to copy Sweden Democrats and hold the balance of power, it is possible for other parties to do so, whether the Liberal Democrats or the SNP. Both parties appear reluctant to contemplate coalition, and so minority government must be a real possibility.
And minority government is exactly that - a party must govern in minority. What has so shocked Sweden has been the idea of the mainstream opposition centre-right parties joining forces with Sweden Democrats to vote down a budget. In Sweden, minority government has largely been based on the principle of allowing the largest minority to get its way.
Sweden Democrats has blown that principle out of the water. Yet it is a principle that we have no experience of in the UK. If there were, say, a minority Conservative or Labour government, the other parties - which together formed a majority - would not hesitate to defeat the administration if their interests were temporarily aligned on a particular issue.
The bottom line is this. In Sweden, a land of compromise and consensus, minority government has just become rather unstable. In the context of Britain's more hostile political culture, the norms and conventions that exist in Sweden and much of the rest of the EU do not apply.
And here is the rub. In most other countries, if a minority government gets into difficulties, new elections can always be used to end the uncertainty.
Yet in the UK we have this new law called the Fixed Term Parliaments Act, which makes it much harder for a UK prime minister to call an election. He needs a two-thirds majority in the House of Commons.
And so this means that the uncertainty of a minority government could last a long time. To misquote Pliny the Elder, the only certainty may be that everything will stay uncertain.
Related Internet Links
The BBC is not responsible for the content of external sites.