Minimum wage rise of 3% recommended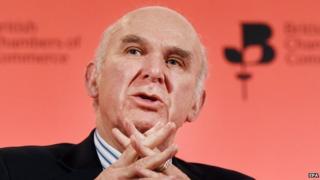 The independent body that advises the government on the minimum wage is to recommend an increase of 3%, Business Secretary Vince Cable has announced.
He said the above inflation rise in the adult rate from £6.50 to £6.70 an hour would be the biggest since 2008, worth £416 a year to a full-time worker.
Each year, the Low Pay Commission submits recommendations on the future level of the minimum wage.
The increase, yet to be accepted by the government, would apply from October.
A 3.3% increase - from £5.13 to £5.30 - is recommended for 18 to 20-year-olds, along with a 2.2% increase to £3.87 for 16 to 17-year-olds.
Last year Chancellor George Osborne said the minimum wage would be £7 by 2015 had it kept pace with inflation.
But Mr Cable told the BBC the chancellor had made a "statement of fact" rather than actually recommending a £7-an-hour rate.
His own plea for a £1 increase in the minimum wage for apprentices, to bring them into line with the rate paid to 16 and 17-year-olds, was rejected by the commission, with the apprentice rate instead set to rise by 7p to £2.80.
Katja Hall, of the CBI, welcomed the commission's "careful balance".
"Any artificial increase due to political expediency will help no-one and ultimately damage one of the most successful government policies in recent years," she added.