Bercow warns MPs of 'cash for access' penalties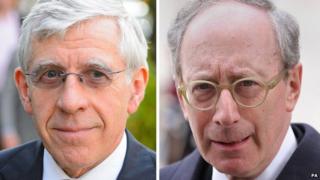 Sir Malcolm Rifkind and Jack Straw will "cop it" if they have broken parliamentary rules in the "cash-for-access" row, Commons Speaker John Bercow has said.
The two were secretly filmed allegedly offering their services to a private firm for cash. Both deny wrongdoing.
Mr Bercow told Sky News it "may well be errors of judgement have been made".
Meanwhile, two senior Conservative peers have claimed that being an MP is not a full-time job.
Mr Bercow's comments follow Sir Malcolm's resignation as chair of Parliament's Intelligence and Security Committee on Tuesday, and his announcement that he will not stand again in the coming general election.
The Conservative party whip has been withdrawn from Sir Malcolm, while Mr Straw - who had said last year that he was retiring as an MP in May - has suspended himself from the Labour Party.
The MPs have referred themselves to Parliament's standards watchdog but deny breaching House of Commons rules.
'Face the music'
The two former foreign secretaries featured in an undercover investigation by the Daily Telegraph and Channel 4's Dispatches programme.
Reporters posed as staff of a fake Chinese firm and held discussions with the MPs about joining the company's "advisory board".
Speaking to Sky News, Mr Bercow said: "I know them both, and they are both highly capable, highly experienced people.
"It may well be errors of judgement have been made, and if that is so then they will cop it. They will face the music, they will suffer a penalty as a result."
He added that his attitude was that MPs should represent their constituents and not use their position to make money from outside interests.
"People should not be in parliament to add to their personal fortune," he said.
Meanwhile, two senior figures in the Conservative Party - Lord Heseltine and Lord Lawson - have entered into the debate about whether MPs should be allowed to have second jobs.
Following the "cash for access" allegations, the Labour leader Ed Miliband called for a ban on MPs being allowed to have two jobs.
Labour will hold a Commons debate later, using its Opposition Day slot to try to persuade the other parties to back its call for a crackdown.
But the Liberal Democrats and Conservatives are expected to vote against the Labour motion.
But in an interview on BBC Newsnight, former Deputy Prime Minister Lord Heseltine said he believed an MP's salary was "not designed to be the total income of all MPs".
He said: "Is an MP expected to be a full-time employee of his or her constituency?
"My own view is that it is not a full-time job, there's a huge commitment in it and you work all hours and all days but there is plenty of time in which you can do do other things providing it's within the rules that are laid down."
He said while many MPs would regard themselves as well-paid, others would feel they had to "forego" an income they were "perfectly capable of earning in combination with a job as a backbench MP".
And the former Chancellor Lord Lawson told Sky News: "Being a constituency MP - although it is an important job - is not a full-time job. Indeed, the proof of that is that ministers are also MPs and they do both jobs.
"When I was Chancellor of the Exchequer I had one of the heaviest workloads in the country and yet I continued as a constituency member and I don't think anybody said I wasn't doing my job there.
"So if you're just a constituency member, you do have time on your hands".
---
What are the rules?
The Commons Code of Conduct states that MPs must not act as a "paid advocate" - taking payment for speaking in the House, asking a parliamentary question, tabling a motion, introducing a bill or tabling or moving an amendment to a motion or bill or urging colleagues or ministers to do so.
They have to declare their financial interests, including paid employment outside Parliament, in the Register of Members' Financial Interests.
There are also guidelines for ministers leaving office: former Cabinet members must normally wait three months after leaving office before they can accept any kind of paid employment, and should not lobby existing ministers on behalf of any organisation for which they are employed for two years after leaving office.
---