Immigration increase: Why the Conservatives won't be weeping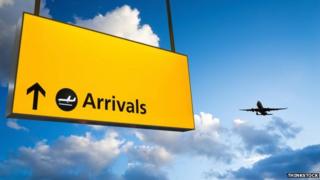 The latest immigration figures are confirmation that Mr Cameron has failed to meet his "no ifs, no buts" pledge to get net migration down to the tens of thousands.
There are "no ifs, no buts" about this.
These are the last set of figures before the election and they show net migration at its highest level for a decade.
Rapid increase
Indeed, the figures reveal pretty much all the numbers are moving in the wrong direction for Mr Cameron.
Not only is net migration 50,000 higher than when he became prime minister, but even non-EU migration - which ministers had claimed to have brought under control - is now increasing rapidly.
Given all that you might imagine there should be a good deal of weeping and wailing inside Number 10.
And yet curiously there isn't. Why not?
In part because there is a view that today's news has hardly come as a bolt from the blue. Most people had already factored in that Mr Cameron wasn't going to meet his pledge.
In part because they think voters still believe Mr Cameron is serious about wanting to reduce levels of immigration and has already set out further plans to curb so-called benefit tourism.
Cautious approach
But above all because of what William Hague today called "the problem of success".
A reference to "the success" of the economy which senior Tories say is now driving the rise in immigration.
In other words, because the rest of Europe is in the economic doldrums, the UK has become a magnet for job seekers in the rest of the EU.
The hope is that whatever reservations voters might have about spiralling levels of immigration, such concerns are trumped by relief at having a growing economy.
As for that pledge ? Do not expect Mr Cameron to repeat it at this election.
Senior Tories are now talking more cautiously about "an ambition" to ensure net migration is brought down to "sustainable" levels.