Lib Dems want extra £1bn bank levy to cut deficit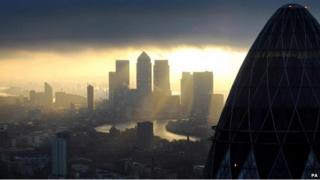 Britain's banks should be taxed with an additional £1bn-a-year levy in order to help pay off the deficit, according to the Liberal Democrats.
The plan would effectively strip banks of the benefit of recent corporation tax cuts.
Lib Dem Treasury Secretary Danny Alexander is pushing for it to be included in Chancellor George Osborne's budget later this month.
If he does not succeed it will be put it in the Lib Dem election manifesto.
The Lib Dems and Conservatives are both committed to a further £30bn of fiscal "consolidation" in the new Parliament to clear the deficit in the public finances by 2017/18.
Spending cuts
But unlike the Tories - who say they would do it through a combination of spending and welfare cuts and a further clampdown on tax avoidance - the Lib Dems say they would seek to raise at least £8bn through additional taxes.
The Lib Dems want to impose an additional 8% rate of corporation tax on UK banks, which they say will raise an extra £1bn a year towards cutting the deficit.
The proposed supplementary charge is intended to remove a series of reductions in corporation tax since 2010 from the banks - and would be in addition to the existing bank levy.
Labour has said it will clear the deficit by the end of the next Parliament through a combination of spending cuts and tax increases on the assets and incomes of the better-off.
Shadow chancellor Ed Balls has said Labour will increase the annual tax on bank profits introduced by Mr Osborne in 2010 by £800m a year to fund more free childcare for parents of three and four-year-olds in England.
He has also outlined plans to raise up to £2bn from a tax on bankers' bonuses during Labour's first year in office, if it wins May's election.
'A little more'
Danny Alexander said the banks had recovered sufficiently to make a contribution to deficit reduction on top of the existing bank levy.
He said: "Many banks were left seriously weakened after the crash. But as a result of our comprehensive range of reforms, and the strong economic recovery, the banking sector is now returning to health and profitability.
"So now is the right time to ask the sector to contribute a little more to help us balance the nation's books. That's the right way to keep our strong economy on track, and build a fairer society too."
A spokesman for the British Bankers' Association said the UK banking sector already made a major contribution in tax, adding that "yet another tax on banks will not improve financial stability".