The first tea towel election?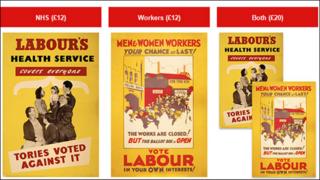 Whether it's over-familiar emails from celebrities pretending to be your friend or offers for "limited edition" party merchandise, could this be the first spam election?
Ooh look, Ben Elton has sent me an email. I wonder what he wants. And now the prime minister wants to speak to me. How exciting.
That's how it's meant to work anyway.
Britain's political parties - and the Conservatives and Labour in particular - have begun dressing up their campaign and fundraising emails as personal messages from the accounts of celebrity supporters or senior party figures. It's the oldest trick in the direct marketing book, updated for the online world.
The parties have built up vast databases of everybody who has ever brushed past them in cyberspace so they can spread their message to the widest possible audience in the run up to the general election.
So it's not just party members that get bombarded with propaganda and offers to buy branded tea towels and fridge magnets. It is tens of thousands of other people, including, it seems, me and everyone I work with.
Labour seems particularly keen on the celebrity angle. Recent messages include Alastair Campbell inviting us to a pub quiz and Ben Elton telling us why he's donating money to the party again (and why we should too).
Many of the Tory messages come from party chairman Grant Shapps, who in a previous life (and using a different name) reportedly charged £270 an hour for online marketing advice.
They normally include a "call to action," to use the marketing jargon - a chance to donate or to pass on the party's latest campaign poster. Others have come from Boris Johnson and Theresa May.
Labour also use these techniques a lot, urging recipients to share the message on Facebook or to take part in a poll.
The tone of emails from party bigwigs is often gossipy. "Really - fox hunting?!" read the subject line of a message from Labour's Maria Eagle ("Brian, Did you hear what Liz Truss - the Tory Environment Secretary - announced was top of her priority list last week? Bringing back fox hunting").
At other times it can veer towards the overblown.
"They'll say 'Brian helped decide this election,'" read the subject line of a recent missive from Conservative Party chairman Grant Shapps. Will they really?
The effect was slightly spoiled by comparing notes with colleagues. It seems "they" will also say Jon, Justin and Pippa etc helped decide this election.
Then there is the merchandise.
"Wow - the way our vintage election poster tea towels are being snapped up, it seems there's going to be one in every home in the country! Haven't got yours yet?," frothed a recent Labour sales pitch.
The Tories adopted a less hyperbolic tone when flogging their £10 fridge magnets ("Do you want one of these, Brian?"). Like Labour's tea towels, they were a limited edition.
It's possible party supporters will be receptive to these kind of messages.
Particularly when they get a message from the party leader, giving them the inside track on a big announcement ("I'm about to go on stage to announce this - but I wanted you to hear it from me first," read one Ed Miliband message recently).
And it must work otherwise they wouldn't do it.
Would they?