General election 2015: Ed Miliband in 'any time' challenge to PM over debates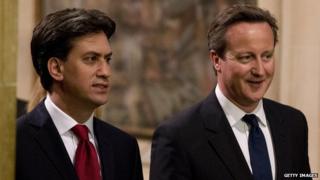 Labour leader Ed Miliband says he will take part in a televised election debate against David Cameron "any time, any place, anywhere".
Mr Miliband told the prime minister to stop "wriggling" out of the three debates, which include a head-to-head between the two leaders.
The PM says he wants them to take place before the election campaign starts.
Earlier, broadcasters offered to bring forward the head-to-head clash currently scheduled for 30 April.
During Prime Minister's Questions in the Commons, the Labour leader accused Mr Cameron of trying to "avoid" their one-on-one debate.
'Different day'
Sky News and Channel 4, which are hosting the event, then released a statement saying they were still preparing for 30 April.
They added: "However, in response to media inquiries following today's PMQs, we would obviously be willing to host a debate on a different day the two main party leaders could agree on."
The general election campaign is likely to start on 30 March, the day when Parliament is expected to be dissolved.
Under the current proposals, as well as the head-to-head clash, two debates hosted by BBC and ITV would feature the leaders of the Conservatives, Labour, the Liberal Democrats, UKIP, the Greens, the SNP and Plaid Cymru.
These would take place on ITV on 2 April and the BBC on 16 April.
Mr Cameron has expressed concern about the exclusion of the Democratic Unionist Party from the seven-leader format proposed by the broadcasters, having previously called for the Green Party to be included when they were left out of the first version.
'Discussions continuing'
In the Commons, Mr Miliband challenged the prime minister to say he would be at their head-to-head debate.
After saying "we are having a debate now" and criticising Labour over the economy, Mr Cameron added: "I say let's have these debates, let's get on with them before the election."
Later, the Labour leader added: "David Cameron said today that he would do the live TV debate with me as long as it happened earlier than currently planned. Well that's fine by me.
"I'll do it any time, any place, anywhere because I want these TV debates to happen.
"I think the British public deserves it, and David Cameron should now name the date."
Mr Cameron's official spokesman said: "We have heard lots of different things from different broadcasters for quite some time now.
"It is one for the political parties, but my understanding is that discussions are continuing."