David Cameron stands firm over TV election debates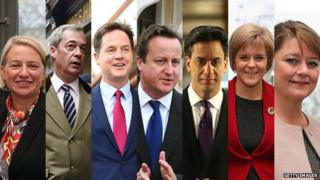 David Cameron has said he will not change his mind about taking part in more than one TV debate before the general election.
Speaking in London, the prime minister said he hoped broadcasters would "take up" his call for a single debate of seven party leaders before 30 March.
BBC, Sky, ITV and Channel 4 plan to hold three debates in April and urged Mr Cameron to take part in all of them.
But Mr Cameron said he would not "change his opinion" about their plans.
Mr Cameron has been accused of "running scared" by his political rivals but he insists his "final offer" to take part in one debate has "broken the logjam" in negotiations.
The four broadcasters have said their three debates will take place irrespective of whether Mr Cameron takes part and threatened to "empty chair" the prime minister.
As it stands, the broadcasters want to stage two debates featuring the leaders of the Conservatives, Labour, Lib Dems, UKIP, the Green Party, the SNP and Plaid Cymru on the 2nd and 16th of April.
They also want to stage a head-to-head clash between David Cameron and Labour leader Ed Miliband on 30 April, a week before polling day on 7 May.